A WORD FOR TODAY 12 MAY 2020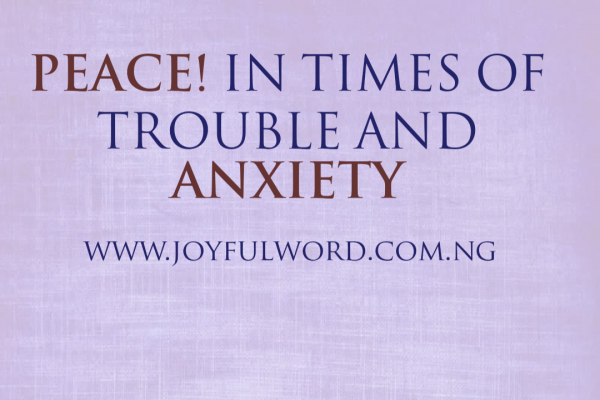 A WORD FOR TODAY
PEACE! IN TIMES OF TROUBLE AND ANXIETY
"Peace I leave with you; my peace I give to you; not as the world gives do I give to you. Let not your hearts be troubled, neither let them be afraid." (John 14:27)
Troubles, pain, suffering, persecutions and difficulties of all kinds are part of what we face on a daily basis as human beings in this world. Sometimes, they come to us through people we know and other times, it comes as a result of jealousy and wickedness of people. However, if we are going to overcome, we must strive to have the peace of God dwell in our heart.
Jesus tells us in the gospel of today that He leaves us His peace and He also gives us His peace.(Shalom) And the peace He gives is not as the world gives, but such that will help us to remain calm and recollected even in times of trouble and persecution. The world's peace could be cosmetic and artificial in nature. It could be based on what pleases one and causes harm to another, it is a peace that makes us to escape and avoid trouble, but the peace that the Lord gives is such that even in the midst of lack, sickness, hunger and attacks, you will still continue to praise God and believe in Him.
It is only a person who has the peace that Jesus gives, will be able to do what Paul did in the first reading of today. Yesterday, he fled persecution at Iconium and came to Lystra, but today we see the same group of persons who persecuted him at Iconium also came to Lystra and instigated the people to beat him up. He would have ran away after the torture, but when he regained consciousness he went into the city and continued proclaiming the Good News. It pleased him that he suffered for God and it will also help him to gain entrance into God's kingdom.
We need this peace that Jesus gives, especially in this time of worry and anxiety that is connected to covid 19. We need this peace as we face various challenges and difficulties which include; persecutions, unemployment, injustice, oppression, hunger, sickness, envy, jealousy, marginalization, kidnapping, torture, slavery, disappointment, frustrations and so on. Nothing we experience in this life can take away the peace that Jesus gives if it dwells in our heart. It is a peace that keeps you going even when everyother person has given up about life. It is a peace that makes you to smile in the midst of pain and worry. it is not a peace that comes from food, drink, clothing, cars, houses or any other material possessions, but from the divine and it is priceless.
Therefore, we must pray and seek to have the peace of soul which comes from the Prince of peace, Our Lord and Saviour Jesus Christ. It is this peace that will help us to pass through this world and all its troubles and pain and we will not he swallowed or defeated, instead we will come out victorious and will continue to praise and honour the Lord in the things we do.*_
It is this peace that will help us to keep proclaiming Christ even when we suffer and face various kinds of wickedness and oppression in the hands of people as saint Paul did. This peace will give us the courage to witness for God even to the point of death, because we know that the reward that will come in the end is eternal life. Pray for it and be disposed to receive it and Jesus will give it to you and you will be happy forever.
_*Good morning dearest one. Smile😊as you do your work and do have a peaceful day. May Jesus give you peace as you have never had before. Amen. And may the Almighty God bless you: the Father and the Son and the Holy Spirit. Amen.*_
*Meditation:* Acts 14:19-28/Psalm 145:10-13,21/John 14:27-31
*Watch-Word:* Peace I leave with you, my peace I give to you.
_*True Peace(Shalom) does not mean absence of trouble and war, but in the midst of these, you will be calm and not be afraid. We need God's peace to alm the turbulence in our life.*_
(Tuesday of the Fifth Week of Easter. Cycle A)