A WORD FOR TODAY 12 SEPTEMBER 2019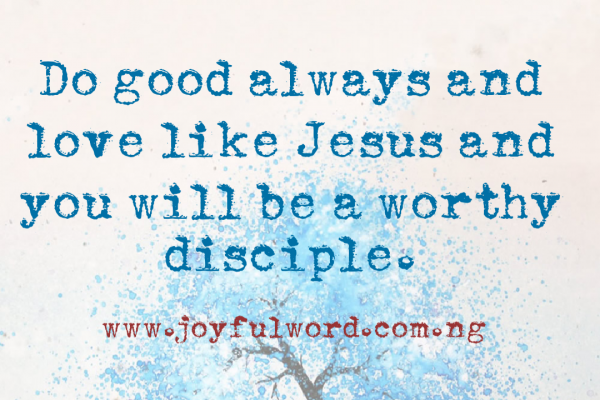 A WORD FOR TODAY
Goodness is a virtue and it is the hallmark of a true Christian and authentic disciple of Jesus. It will be a lie to claim to be a Christian and one fails to live a life that is characterised by mercy, love, kindness, patience, forgiveness and thankfulness.
Saint Paul admonished the Colossians to live a life of humility and meekness and to let the word of Christ dwell in them richly and also to be ready to do everything in the name of the Lord Jesus. If anyone wants to be a good ambassador of Jesus he or she must live according to Jesus' principles and values which are totally different from the standard of the world.
Jesus in the gospel reading elaborates more what we should be doing as His disciples and how we should live. He has loved us by coming to die for us and he forgave on the cross those who tortured and crucified Him and He expects us to follow the same example.
We must not pay back evil with evil, but with the mind of Christ, we must love our enemies, do good to those who hate us, bless those who curse us and pray for those who abuse us. This attitude may be a difficult one to cultivate, but that is the best way to show that we belong to Christ, when we live and act according to the example and standard He had laid down for us.
Love is the key and it is the power we have to change lives and make the world a better place. We must love one another as Christ has loved us. We must be ready to share what we have with others especially those who will not be able to pay us back and God will reward us immensely at the appointed time, for the measure we give will be the measure we will get back. This means that if we give love and kindness, we shall also receive love and kindness from God and so on.
A true disciple of Jesus will always desire the highest good of the other irrespective of what the person does, just as Jesus did for us by coming to die for us on the cross while we were yet sinners. Therefore, if we intend to follow the Jesus' way we must be ready to do to others as we would like them to do to us. This is the golden rule and if we follow it, we will be the best we can be for God and humanity.
We must do good everyday and we must show the world that God is good and He is the one we have come to serve. People must see it through our words and actions that we represent Christ who is goodness Himself. We must go the extra mile if we intend to be like Jesus, we must not settle for the ordinary, but to strive always to do the ordinary things in an extraordinary manner.
Good morning dearest one. Smile😊 as you do your work and do have a blessed day. May God's love for you move you to love others as you love yourself. And may the Almighty God bless you: the Father and the Son and the Holy Spirit. Amen.
Meditation: Colossians 3:12-17/Psalm 150:1-6/Luke 6:27-38
Watch-Word: The measure of love you give will be the measure you will get back.
To be like Jesus, you must be ready to lay down your life in love for the good and salvation of others.
(Thursday of the 23rd week in the Ordinary Time, Year 1)