A WORD FOR TODAY 13 APRIL 2019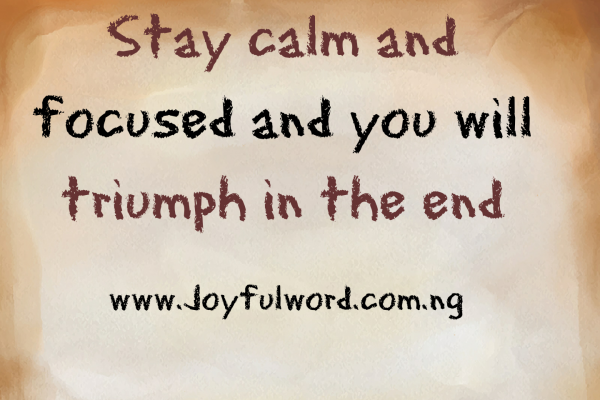 A WORD FOR TODAY
The day of his death is drawing near and the Pharisees are beginning to make plans on how to destroy Him simply because He is doing what they could not do. He was leading the people to the knowledge of the Father and many seem to be going to Him and leaving the Pharisees.
Their popularity is dwindling and they are more jealous than ever before. They want to protect their selfish interest by getting rid of Jesus whom they see as an obstacle in the control they want to hold on the people. They want to kill a righteous man, but they do not know that God has a plan for His life.
Jesus was not deterred by the attack of the Pharisees on His personality, rather, he was focused on paying the ultimate price at calvary with His life in order to save and redeem humanity and He does not want the Pharisees to be an obstacle to that task.
We should learn from Jesus to stay calm in the face of attack and provocation by people. He was patient and focused and never allowed the people to pressure Him to do what is not right. He controlled Himself and in the end conquered.
We must also strive to live a holy and righteous life and be prepared to face persecutions in the hands of the people. However, we must believe in God because He will always be there to help us and deliver us in our times of trouble. He will be the shepherd of our soul and will not allow the force of evil to triumph over us.
Good morning dearest one. Smile😊as you begin your day and may the Lord keep you safe from harm and evil. Amen. And May the Almighty God bless you: the Father and the Son and the Holy Spirit. Amen.
Meditation: Ezekiel 37:21-28/Jeremiah 31:10-13/John 11:45-57
Watch-Word: The Lord will keep us as a Shepherd keeps his flock!
Stay calm and focused in the midst of any provocation from people and you will be like Jesus who overcame evil with good.