A WORD FOR TODAY 13 APRIL 2020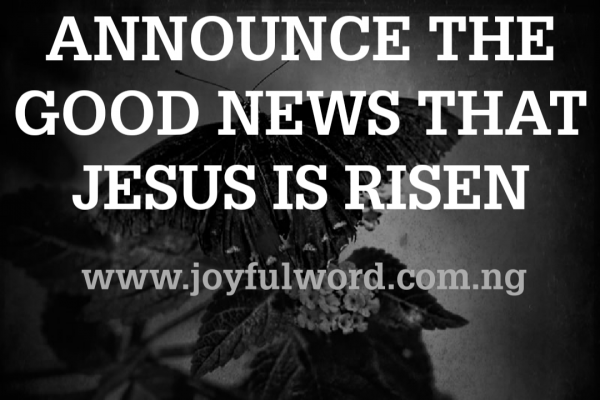 A WORD FOR TODAY
ANNOUNCE THE GOOD NEWS THAT JESUS IS RISEN
"At that time: the women departed quickly from the tomb with fear and great joy, and ran to tell his disciples. And behold, Jesus met them and said, "Hail!" And they came up and took hold of his feet and worshiped him." (Matthew 28:8-9)_
We are in a joyful mood since yesterday, because Jesus is risen. This joy will be in our hearts for a long time to come, because His resurrection is not a fluke, but a reality.
However, the beauty of this celebration is that you do not keep the Good News to yourself. You must do the needful by announcing it to the whole world.
After the encounter with Jesus, the women departed quickly to go tell the other disciples what they have experienced. They were filled with fear and joy at the same time. They told the authentic story about Jesus because they encountered Him, but the guards told some lies in order to make the whole story about the resurrection look like a lie.
It is important to always know what kind of story you are spreading. Especially in this age when so many stories appear to be true, but in the end it will end up to be false and fake. Only a person with a crooked mind and ulterior motive will share a false story as truth and make people to believe that it is true. We must learn not to forward messages to people when we are not sure if it is true or fake. Do some investigations, double check and confirm its authenticity before you can click the button to share.
Peter in the first reading of today was not afraid to speak about Christ, because He knew that He was telling the truth. We must, like him, draw closer to Jesus so that we shall experience His glory and in that way we shall come to know Him and be ready to tell the world about Him.
We must announce the Good News and we must learn to always be instruments of truth in the world, because no matter how a lie is cooked up to be true, and no matter how people try to suppress the truth, it must always prevail. We must never allow ourselves to be used to spread fake news, instead we should make ourselves available to proclaim the Risen Christ wherever we find ourselves.
Good morning dearest one. Smile😊as you do your work and do have a wonderful day. May God's grace abide in your heart as you proclaim the risen Christ. Amen. And may the Almighty God bless you: the Father and the Son and the Holy Spirit. Amen.
Meditation: Acts 2:14,22-23/Psalm 16:1-2,5-11/Matthew 28:8-15
Watch-Word: Preserve me, O God, for in you I take refuge.
There are two sides to life, the truth and the lie. You go the way you choose, but the truth will always prevail.
(Easter Monday, Cycle A)