A WORD FOR TODAY 13 DECEMBER 2019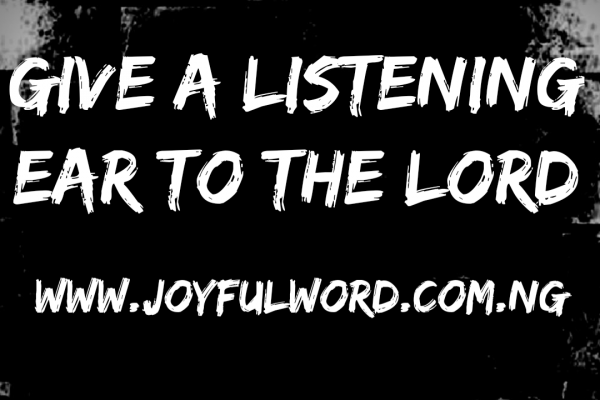 A WORD FOR TODAY
GIVE A LISTENING EAR TO THE LORD
There is always joy in the heart of parents who see their children become very obedient and respectful. A child that listens to the parents instruction is definitely a delight to watch, because it tends to show that he or she has gotten a good parental upbringing.
God is always speaking to us as His children and if we must make Him happy, we must hearken to His voice and keep His commandments. There is a lot we gain when we listen to the Lord and do what He commands. He knows our beginning and our end and to listen to Him and follow His path will definitely bring us good instead of disaster.
The prophet Isaiah in the first reading of today gives us an insight into what happens to the person who listens to the voice of the Lord. First, you will have peace that flows like a river, this simply means unending peace and it is such that the world cannot give. Secondly, you will radiate in goodness and righteousness and God will bless and defend you and your descendants in times of danger.
To give a listening ear to the Lord is to make the decision to obey Him at all times. We must obey Him because He knows the way better than we do and He has the key to open every door. Therefore, if we hearken to His voice and do what He commands we shall have life and have it abundantly. We will not be led astray by the forces of evil and good things will come our way.
We should stop giving excuse when it comes to listening to God's voice, because we do not know more than Him. He knows us and He knows what will be good for us and to do what He wants will help us to gain eternal life. We must not be like the people of this generation whom Jesus talked about in the gospel reading. They are never satisfied, but always complaining. They find fault in everything and they can never listen because they are full of themselves and they know very little of what truly brings joy and happiness._
To give a listening ear to the Lord is to follow His lead and to place your trust in Him to lead you in the right path. Listening to the Lord is the best thing to do because He has all that we need to live well in this life and to make heaven. However, if we fail to listen to Him and do what He commands, we will walk in darkness and our life will be without joy and peace.
Today we celebrate the memorial of saint Lucy, virgin and martyr. She was killed for upholding the truth and by doing God's will of helping the poor. She listened to God's voice and she died for God and today she is in heaven with God. We must learn from her to let God's Spirit move us to do good always and to be ready to lay down our life for His sake.
Good morning dearest one. Smile😊as you do your work and do have a blessed day. May God's blessings come upon you as you listen to His voice and do what He commands. Amen. And may the Almighty God bless you: the Father and the Son and the Holy Spirit. Amen.
Meditation: Isaiah 48:17-19/Psalm 1:1-4,6/Matthew 11:16-19
Watch-Word: He who follows you Lord, will have the light of life.
listening to God's voice helps you to know the path to follow to get to your final destination, which is heaven.*_
(Friday of the Second Week of Advent, Year A)