A WORD FOR TODAY 13 FEBRUARY 2020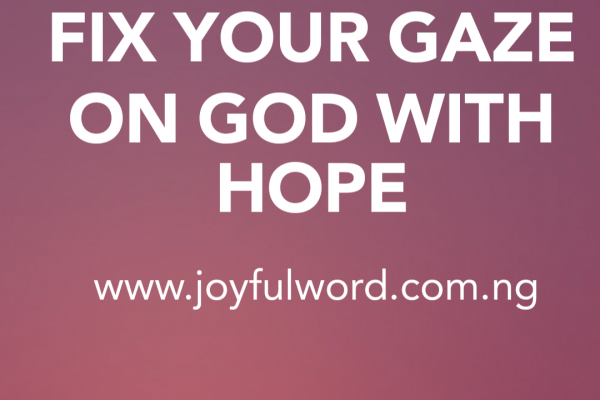 A WORD FOR TODAY
FIX YOUR GAZE ON GOD WITH HOPE
One thing that always helps us to overcome in our times of need is the hope we have that the one we cry to will definitely do something to help us. If you lose hope at any point in time, then it means that you have given up and you may be defeated in battle.
Our life is a spiritual journey and battle and in as much as we desire to conquer and overcome, we must fix our gaze on God with hope. This is very important, because the grace to be able to conquer will definitely come from the Lord.
The first reading of today is an eye opener to what happens to us when we lose focus on God and drift into worshipping other gods. Solomon was blessed by God, but he exposed himself to the manipulations of his wives and they turned his heart away from God. He left the supreme and true God to love other gods. This came with a consequence and it is something we must not let happen to us. Never choose others gods above the Almighty God.
If we must win our battles in this life, we must stay focused and fix our gaze on God. We must never give up no matter the obstacles we may encounter, because it is through our perseverance that we will overcome.
The Syrophoenician woman in the gospel reading did not let the remarks of Jesus stop her from pressing forward her request for Jesus to deliver her daughter. She focused on Jesus and was not distracted with what was said about her. She stayed humbled before Jesus, focused on Him and she got what she wanted.
We must learn from this story to always come to Jesus with a humble heart and to be persistent in our prayers. We must not let anything distract us from focusing on Him, because He is able to do for us more than we can ever imagine.
Good morning dearest one. Smile😊 as you do your work and do have a wonderful day. May Jesus attend to you as you fix your gaze on Him and may He answer your prayers. Amen. *And may the Almighty God bless you: the Father and the Son and the Holy Spirit. Amen.
Meditation: 1 Kings 11:4-13/Psalm 106:3-4,35-37,40/Mark 7:24-30
Watch-Word: O Lord, remember us with the favour you show to your people.
Never stop knocking at God's door even when you are yet to get a response from Him. Stay focused on Him because He will definitely respond.
(Thursday of the fifth week in the Ordinary Time, Year II)