A WORD FOR TODAY 13 JULY 2019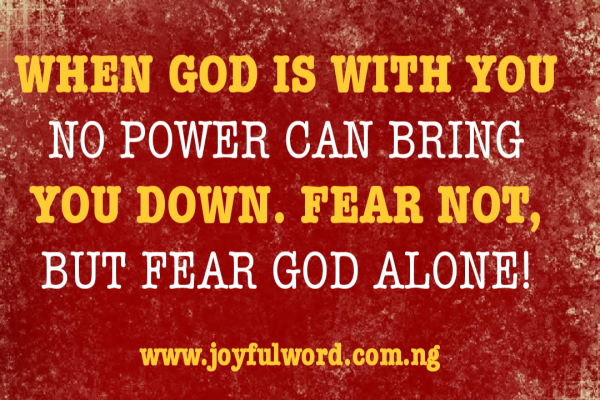 A WORD FOR TODAY
Our responsibility in this life is to proclaim Jesus and acknowledge Him before the people. We may experience turbulence or rejection and persecution in carrying out this task, but Jesus has conquered and as such we shall also conquer.
Jesus gives His disciples the word of admonition that will guide them in the things they do. They were told not to be afraid about those who will kill the body, but cannot kill the soul. This simply means that as we follow Jesus we must be ready to experience the things He passed through while on earth.
We must not lose hope and faith in God when we face challenges, instead, we should place our trust in God and know that He will never abandon us, but will care for us as He did for His Son Our Lord Jesus Christ. We are worth much more than many sparrows and we should always bear this in mind as we proclaim the name of God.
We must confidently go out to proclaim Christ without fear or shame, because He is abundantly able to take care of us and our needs. He will fight our spiritual battle for us and He will help us to conquer as He conquered. In Christ will your victory over the challenges of life come, therefore, fear not and continue to follow Him.
Joseph followed Him and inspite of the wickedness he experienced in the hands of his brothers and subsequent incarceration in prison in the land of Egypt, he came out victorious and became a channel of salvation to his people and the earth at that time. The Lord lifted him from grass to grace, from prison to the palace. This will be our lot if we put our trust in God and go out to proclaim His name everywhere in words and deeds without being ashamed of the One whom we are following.
Good morning dearest one. Smile😊as you begin your day and do have a spectacular weekend of joy and peace. Amen. And may the Almighty God bless you: the Father and the Son and the Holy Spirit. Amen.
Meditation:* Genesis 49:29-33;50:15-26/Psalm 105:1-4,6-7/Matthew 10:24-33
Watch-Word: You are of more value than many sparrows.
When God is with you, no power can bring you down. Hold unto Him firmly and continue to move forward in your faith.