A WORD FOR TODAY 13 MARCH 2020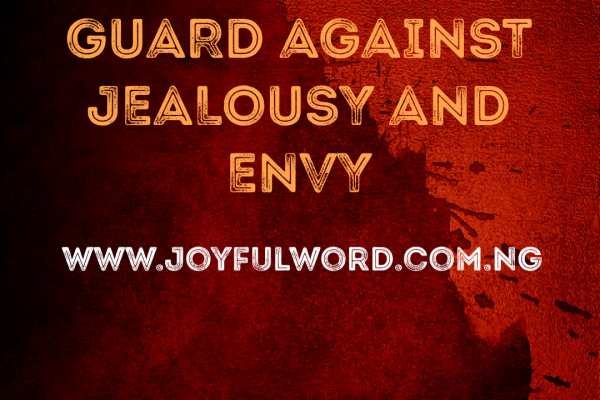 A WORD FOR TODAY
GUARD AGAINST ENVY AND JEALOUSY
Whenever you are not happy about something good that has happened to someone else, and you desire that it should have been for you, it simply shows that something is wrong and need to be fixed, otherwise it will lead you to more pain and agony.
Envy and jealousy are vices that make us to become sad over something that ordinarily should give us joy. We could easily change from good to bad and can even kill when we are envious of someone or jealous about their achievements.
We see how the brothers of Joseph in the first reading became jealous of him and made plans to kill him. However, what they did not know is that the one they were planning to kill will turn out to be their salvation in the future. They hated him simply because of the dream he had.
This same attitude of his brothers was what Jesus experienced in the hands of His people. They hated Him and became jealous of him and then made plans to kill Him, but they did not know that through His death and resurrection their salvation will come. Do not let jealousy and envy make you kill the person who will save you.
If we do not discipline our heart, we will let the seed of jealousy and envy grow in us and when it does grow it will cause us pain and agony and will make us to destroy those who ordinarily would help us become strong and happy.
We all have something in us that could benefit each other, we must let the Spirit of God guide us so that we can have the disposition of helping one another to flourish and blossom instead of pulling each other down through jealousy and envy.
Good morning dearest one. Smile😊as you do your work and do have a splendid day. May God's grace help you to love and not hate anyone or be jealous of those who are making progress more than you. Amen. And may the Almighty God bless you: the Father and the Son and the Holy Spirit. Amen.
Meditation: Genesis 37:3-4,12-13,17-28/Psalm 105:16-21/Matthew 21:33-43,45-46
Watch-Word: The stone the builders rejected has become the corner stone.
Jealousy can lead to hatred, which could make you desire or infact kill the person who will be your saviour in the future. kill jealousy and envy before they kill you.
(Friday of the Second Week of Lent: Day 15)