A WORD FOR TODAY 13 MAY 2020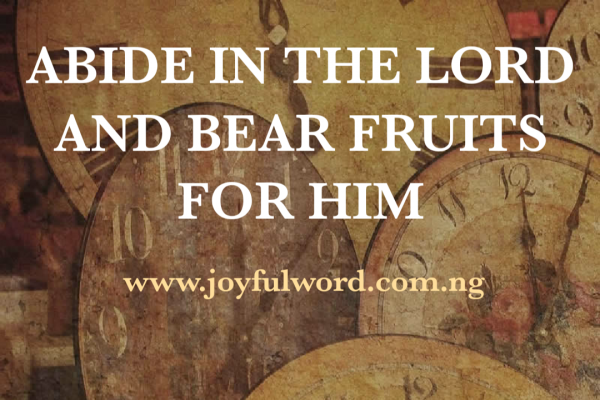 A WORD FOR TODAY
ABIDE IN THE LORD AND BEAR FRUITS FOR HIM
"I am the true vine, and my Father is the vinedresser. Every branch of mine that bears no fruit, he takes away, and every branch that does bear fruit he prunes, that it may bear more fruit".(John 15:1-2)
The whole essence of our Christian living is to bear fruits for Jesus who has called us to come and follow Him. However, if we are going to bear the kind of fruits that will be pleasing to the Lord, we must be ready to abide in Him and let Him lead and guide us in all that we do.*_
Jesus tells us in the gospel reading of today that He is the vine and His Father is the vinedresser, therefore, if we remain in Him and do what He wills, we will bear fruits in plenty, but if we remain apart from Him, we will lack the power to be fruitful and we will wither and die. We have the responsibility to remain attached to Jesus if we intend to bear fruits for Him.
A fruitful life is possible if we maintain our link to Jesus and let Him be the source of our nutrient and inspiration. We are like a branch in a tree, if we remain connected to the tree we shall live and blossom, but if we cut ourselves off from the tree, we shall wither and die. To abide in Jesus means to hold unto Him with faith and to do His will always. It means to love Him with our whole heart and to keep His commandments. If we abide in Him, we must let His word be in us and it will guide us to live well and to do the things that will please Him.
If we must bear fruits for Christ, we must be disposed to be disciplined by Him. He will prune us so that we shall conform to His standard. We will not do our own will but the will of Him who has chosen us to come and follow Him and to serve Him in this life.
If we abide in Christ, we shall bear the fruits of kindness, mercy, forgiveness, peace, love, joy, charity, compassion, justice, holiness and so on. All these and much more is possible if we open our hearts to let Jesus dwell in us and we will shine out as the light of the world and those who encounter us will see the light also and come to believe in Him who has called us to follow Him.
There is need for us to constantly assess ourselves to know if we are still bearing fruit for Christ and also to find out the quality of the fruits we bear, if it is not up to Jesus' standard, we must make adjustments, submit ourselves to the discipline and chastisement of the Lord so that we will begin to live well in accordance with His word and bear fruits in plenty for Him, fruits that will last and endure. If we abide in Jesus and His words abide in us, we can ask Him whatever we want and it will be done for us._
Today we celebrate the memorial of Our Lady of Fatima. It is a feast that celebrates the appearance of the Blessed Virgin Mary to the three shepherd children, Lucy, Jacinta and Francisco on May 13, 1917. She gave them the message to pray the Rosary always for the conversion of sinners and for God's mercy upon the world. We must learn from Our Lady who bore fruit for God with her life so that we can also bear fruits for God who has called us to follow Him. We must also pray our Rosary daily in her honour and for God's intervention in the challenges that we face.
Good morning dearest one. Smile😊 as you do your work and do have a wonderful day. May Jesus give you the grace to abide in Him so that you will bear fruits that will last. Amen. *And may the Almighty God bless you: the Father and the Son and the Holy Spirit. Amen.
Meditation: Acts 15:1-6/Psalm 122:1-5/John 15:1-8
Watch-Word: Let us go rejoicing to the house of the Lord.
Jesus is the source of our nutrient as Christians. Therefore, if you intend to bear fruits for Him, you must attach yourself to Him and obey His word.
(Wednesday of the fifth week of Easter. Cycle A)