A WORD FOR TODAY 13 NOVEMBER 2019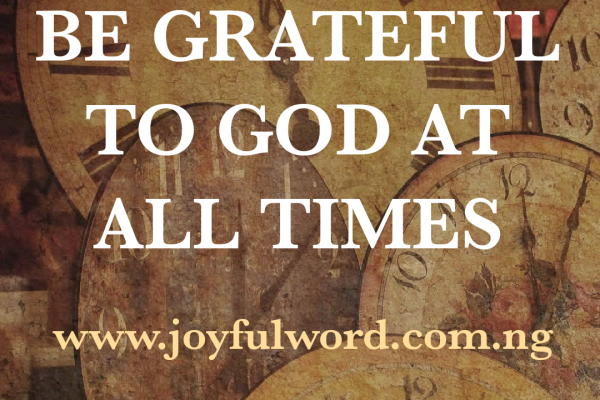 A WORD FOR TODAY
BE GRATEFUL TO GOD AT ALL TIMES
The goodness of the Lord is something we enjoy on a daily basis and no one can ever outdo God in kindness. He is magnanimous in His blessings to us and if we are truthful we can never deny that we have not been blessed by Him even when we experience some lack in our lives. At least we have the gift of life and that is the greatest gift we can get from Him.
The ten lepers in the gospel reading of today approached Jesus for help and asked for his mercy and He gave them an instruction of what to do and immediately they left His presence going to show themselves to the priest, they were all cleansed and the Samaritan among them returned immediately to show gratitude to Jesus. His attitude is a very good example to us, because that is what is expected of us if we wish to follow Jesus. We must always be grateful for the gifts we receive from the Lord.
Our gratitude to God should ordinarily be a way of life for us and not just something we do when we feel we have received a particular blessing from Him. We should always be disposed to praise and honour God, because we are beneficiaries of His favours and blessings on a daily basis. God is always doing something for us by way of protection, healing, salvation, restoration, upliftment, breakthrough, promotion, deliverance, forgiveness e.t.c, therefore, we should always thank Him and be appreciative of His love for us.
Whenever we approach God to ask Him for help, we must do it with faith and anyone who comes with faith will definitely receive blessings from the Lord. The Samaritan received his healing because he had faith in Jesus and when he got what he was seeking for, he did not hesitate to come before the Lord to express his gratitude. We should never take God's gift and blessings for granted, instead, we should always be ready to glorify the name of the Lord, acknowledging that everything we have is a gift from Him to us.
Gratitude moves us to be closer to God at all times, because anytime our heart is filled with gratitude, our thought and mind is raised towards God who is the giver of all we possess. A failure to be grateful at all times is seriously a neglect of our responsibility as children God. Ingratitude is a vice and must be expunged from our heart if we are to be true disciples of Jesus.
Never take the Lord's goodness for granted, instead, strive everyday to show Him from your words and action that you are grateful for the gift of your life which is one of the greatest gifts we have from Him and He gave it to us out of love. God's love is what we experience everyday and we must reciprocate it by living a good life and by showing love to others and being grateful to them when they do good to us.
Good morning dearest one. Smile😊as you do your work and do have a splendid day. May God's healing mercy restore you and may your heart be full of gratitude to Him always. Amen. *And may the Almighty God bless you: the Father and the Son and the Holy Spirit. Amen.
Meditation: Wisdom 6:1-11/Psalm 82:3-4,6-7/Luke 17:11-19
Watch-Word: Give thanks in all circumstances; for this is the will of God in Christ Jesus for you.
Change your ungrateful attitude to gratitude and you will experience peace in your heart as never before.
(Wednesday of the 32nd Week in the Ordinary Time, Year 1)