A WORD FOR TODAY 13 OCTOBER 2020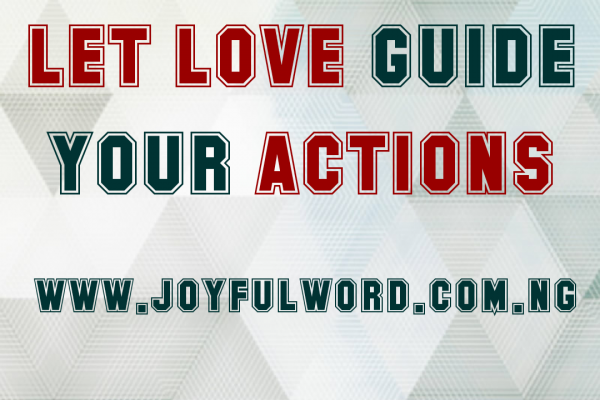 A WORD FOR TODAY
LET LOVE GUIDE YOUR ACTIONS
_"For in Christ Jesus neither circumcision nor uncircumcision is of any avail, but faith working through love."(Galatians 5:6)_
It is a fact of life that Love is beautiful and anyone who lives in love, lives in God. We cannot please God if our actions and day to day interactions with people are not carried out in love.
In Christ, where we come from does not really matter, circumcision and uncircumcision is of no avail, but what we do in love counts. Jesus has shown us what love means and we must follow His example if we intend to be happy in this life and to live with Him in heaven._
If we have love in our heart, we will not act wickedly against others and in dealing with people, we will always have their good at heart. Treat others well and respect and uphold their dignity and your actions will be pleasing to the Lord.
The pharisee who invited Jesus to come and dine with him, focused on fulfilling what the law says, but there was no love in his heart. He focused on the externals of washing hands according to the Jewish law, but the heart is full of evil and wickedness as pointed out by Jesus._
It does not make sense to claim to be a child of God and to love Him, while you oppress others and treat them badly and then cover it up with your external show of loving God deeply. We must learn to act and speak with love always and we will win souls for Him.
Good morning dearest one. Smile😊as you do your work and do have a wonderful day. May the love of Jesus move you to always do good to others. Amen. *And may the Almighty God bless you: the Father and the Son and the Holy Spirit. Amen.
Meditation: Galatians 5:1-6/Psalm 119:41-48/Luke 11:37-41
Watch-Word: Lord, let your mercy come upon me.
Love is beautiful and when you act out of love, you touch hearts and make them to love God more.
(Tuesday of the Twenty eight week in the ordinary time, year II)