A WORD FOR TODAY 13 SEPTEMBER 2019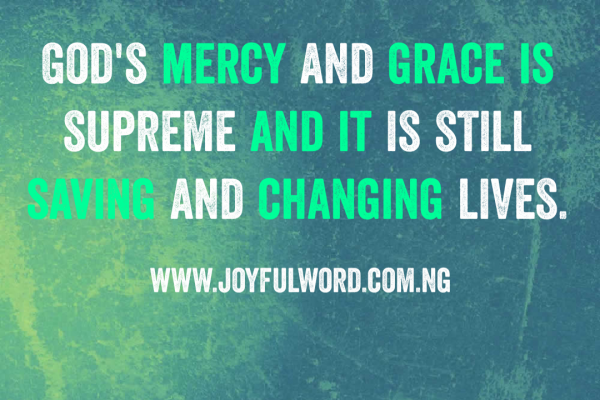 A WORD FOR TODAY
The grace and mercy of God is supreme and it is by it that we are who we are. If not for the Lord's mercy and grace, we will not be alive and we may still be wallowing in darkness. Saint Paul in the first ressing of today recounts to Timothy his son in the faith, that it was God's grace and mercy that saved him from who he used to be, a blasphemer and a persecutor of the people.
The mercy and love of God gave saint Paul a second chance to newness of life in Christ and he received it and worked very hard as an apostle to proclaim the Good News of God's mercy everywhere. He was not ashamed to speak about Christ anymore, he was no longer arrogant, but humble and he went everywhere founding Churches and proclaiming the message of God's kingdom and many soul's came to believe in Christ and were inspired through his teachings including the people of our generation.
We should never take God's love, mercy and grace upon us for granted. We should acknowledge always that we are who we are by His mercy and love and this should motivate us to go out to show the same love and mercy to others and let them come to encounter Him who has transformed us. We must not be ashamed to proclaim Christ and we must work hard everyday to make ourselves better so that we will be able to show others the way to life through our words and action.
Jesus warns us in the gospel reading of today that a blind man cannot lead a blind man, He is speaking not about physical blindness, but a spiritual one. This simply means that you cannot give what you do not have. Before you will be able to correct and guide others in the right path you must have worked on yourself to be on the right path also.
It does not make sense when you criticize others and try to make them change from being wicked and unforgiving, while you are the king or queen of wickedness and unforgiveness too. You must first examine yourself and remove the log in your eyes and life, before you will be able to see clearly to help others remove the logs in their own eyes and lives too.
Humility helps us to live well and acknowledge our limitations and weaknesses, and it also helps us to come before the lord always who will help us to rise and change from evil to good. We will become instruments of mercy, love, grace and transformation in His hands. We must make effort on a daily basis to let our words have a correspondence with our actions, in this way we will have the moral authority and justification to be a guide to others who are yet to come to the knowledge and light of God.
Today we celebrate the memorial of saint John Chrystostom (349-407- "the golden mouth) Hecwas born in Antioch and after a thorough education he was ordained a priest. He worked very hard as the patriarch of Constantinople to reform the Church. He was a fruitful eloquent and effective preacher of the word. Let us learn from him to make ourselves available to God so that he will use us to bring good to others.
Good morning dearest one. Smile😊as you do your work and do have a glorious day. May the grace and mercy you have received from God move you to show mercy and good example to others. Amen. And may the Almighty God bless you: the Father and the Son and the Holy Spirit. Amen.
Meditation: 1 Timothy 1:1-2,12-14/Psalm 16:1-2,5,7-8,11/Luke 6:39-42
Watch-Word: You word, O Lord is truth; sanctify us in the truth.

If you do not work on yourself to become better, you will not have what it takes to make others better. Change and you will be able to change others.
(Friday of the 23rd week in the Ordinary Time, Year C)