A WORD FOR TODAY 14 FEB 2019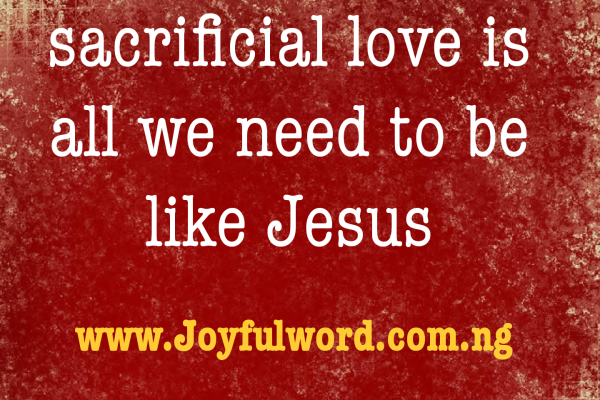 A WORD FOR TODAY
True love is something good and beautiful and we must aim for it always. God made man in love in order to share in His love and also become channels through which His love will be transmitted to all His children in the world._
Marriage is instituted by God as recorded in the first reading of today and it is a vocation that is founded in love. All those already in it or aspiring to enter into it must strive always to live it out in love and faithfulness in a manner that will be pleasing to God.*_
Our world will be a sad and sorrowful place without love. Love moved Jesus to come to the earth to die for us on the cross. Love moved Him to help the needy, feed the hungry, heal the sick, cast out demons, teach the ignorant. We cannot be true sons and daughters of God if we fail to live our lives in love in a manner that will be pleasing to the Lord.
The persistent faith of the Syro-Phoenician woman in the gospel of today met the loving presence of Jesus and the miracle and healing she sought for her daughter from Jesus was granted. Jesus' Love is ready to meet you but you must approach Him with faith in order to receive the good things He has in store for you.
God's love for us should be our guide in loving others. If the love we claim to have and profess to others does not bring them good, then it is not genuine love and we should cease to express it. Genuine and authentic love is selfless, sacrificial and does not discriminate._
Our love for people should make them love God more who is love Himself. We should make the world a better place through our words and actions which should always flow out of love. When this is done, we will find fulfilment and lasting peace which no man can give._
It is Valentine day and the feast of my parish St. Valentine. It is also the memorial of Saints Cyril and Methodius and I pray that through their intercession we shall continue to live out our lives in love that will heal, feed the hungry, protect the weak, fight against injustice and empathise with those living with disabilities.
Good morning dearest one. Smile😊as you do your work and do have a lovely day. May you never be tired of spreading God's love in the world. Amen. *And May the Almighty God bless you: the Father and the Son and the Holy Spirit. Amen.*_
*Meditation:* Genesis 2:18-25/Psalm 128:1-5/Mark 7:24-30
*Watch-Word:* Blessed are all who fear the Lord!
If you will show love today, try and remember to extend it to those who cannot pay you back for anything you will do for them, but can only pray for you and ask God to bless you. Happy Valentine day❤!