A WORD FOR TODAY 14 FEBRUARY 2020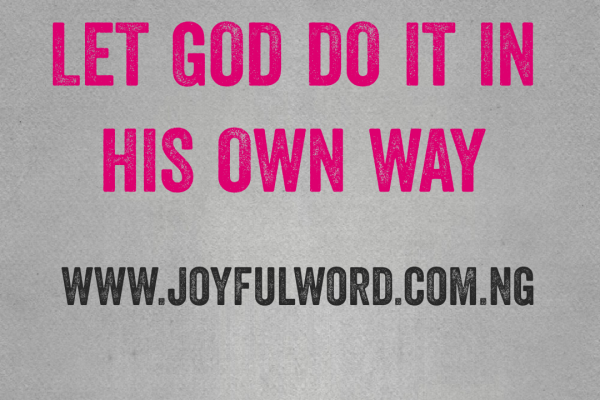 A WORD FOR TODAY
LET GOD DO IT IN HIS OWN WAY
Sometimes in life we tend to want something done for us in a certain way, and when we do not get it as we have desired we become sad, angry and in some cases very disappointed. However, the reality of life has come to show us that we may never get all we want all the time, because we have to let the one who wants to help us to do it in his own way.
The gospel reading of today shows how Jesus in His compassion healed the man who was deaf and had an impediment in his speech. They brought him to Jesus expecting Him to just touch Him in public and say a word for him to be healed, but Jesus took him aside privately and healed him. This is a show of empathy and love and because He did not want him to be embarrassed because of his disability.*_
Many times we come to God with our petitions and we expect Him to do it for us as we have asked, forgetting that He is God who knows what will be best for us at any point in time. This story should teach us to be disposed to let God answer us in His own way and at His own time, because He knows what will be good for us at any point in time.
Do not insist on your own way, rather, let Jesus do it as He pleases. He will never lead you astray and whatever He does will be for your own good. His mercy and compassion is immense and He will restore you and you will be astonished beyond measure and will exclaim like the people in the gospel, "He has done all things well".
God's own way is the way of sacrificial love and He does not spare anything to help us in our times of need. We must put our trust in Him and learn from Him also to be considerate and compassionate with others who have challenges and cannot help themselves. We must learn to help them as Jesus helps us when we call upon Him.
Today the Church celebrates the memorial of saints Cyril and Methodius. They were brothers who propagated the good news in the Slavic nations. They worked for God and saved souls for Him. We must learn from them to always be ready to proclaim the good news so as to save souls.
Today is also a day we honour Saint Valentine and coincidentally he is the patron saint of my parish where I pastor here in the Archdiocese of Benin City, Edo State, Nigeria. He is a priest who showed so much love to prisoners and those in need during the time of persecution of Emperor Claudius. He was martyred as a result of his actions. Over the years he has come to be regarded as the patron saint of lovers, both old and young. Valentine day is a day to show love, but we must always remember that love is not a one day thing, but something we must show everyday, because God is love. Therefore, let the love of God move you to love others not according to the world's standard, but in concordance with how God has decreed it to be shown and expressed.
Good morning dearest one. Smile😊as you do your work and do have a beautiful and lovely day. May God's love for you move you to show some love to those around you. Amen. And may the Almighty God bless you: the Father and the Son and the Holy Spirit. Amen.
Meditation: 1 Kings 11:29-32;12:19/Psalm 81:10-15/Mark 7:31-37
Watch-Word: I am the Lord your God, listen to my voice.
If you love God, you must hearken to His voice and His love for you will move you to love others as He has loved you. Show some love today and always.
(Friday of the fifth week in the Ordinary Time, Year II)