A WORD FOR TODAY 14 JANUARY 2020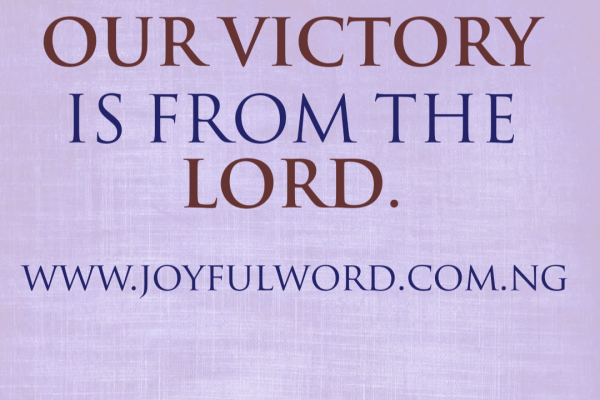 A WORD FOR TODAY
OUR VICTORY IS FROM THE LORD
We face different challenges in life from time to time and sometimes it gets so tough that we may not even know what to do. However, there is need for us to strive to know Him who can help us in our times of trouble and pain so that we will overcome.
The readings of today points to this fact of life, that problems and difficulties are part of what we experience on a daily basis and sometimes they could also emanate from spiritual forces of evil whose intent is always to make us be in darkness, pain and in chains.
In the first reading of today we see how Hannah cried to the Lord for help so that she could conceive and give birth to a son and the Lord heard her prayers and gave her a son. Eli the priest was in the temple when she came to pray and he blessed her and asked God to grant her petitions. Not being able to conceive was a problem for her, but when God answered her prayers, her joy was restored and she fulfilled her vow to the Lord.
In the gospel reading we see Jesus with authority rebuke the unclean spirit that was tormenting the man it possessed and it came out of him and the man was well again. The force of evil was holding him at ransom until Jesus appeared and he was set free.
Our victory over the troubles and challenges of life, pain and disappointments, demonic torments and attacks from evil forces can only come from Jesus who has conquered these forces on the cross. We must always look up to Him from whom our help will come and in Him is our victory over the forces of evil.
Call upon the Lord in prayers and be rest assured that He will come to your aid. He will never let the troubles of this life conquer you, instead in Him we are more than conquerors. In His name and by His authority we shall be victorious. Therefore, rise up, make your petitions known to the Lord with faith and see Him come to help you as He did for Hannah and the man with an unclean spirit in the readings of today.*_
Good morning dearest one. Smile😊as you do your work and do have a wonderful day. May Jesus come to your aid and may He give you victory over the forces that fight against you. Amen. And may the Almighty God bless you: the Father and the Son and the Holy Spirit. Amen.
Meditation: 1 Samuel 1:9-20/1 Samuel 2:1,4-7/Mark 1:21-28
Watch-Word: May the God Israel grant your petition which you have made to Him.
Never give up because of your challenge, for the Lord will give you victory in the end. Stay hopeful and have faith.
(Tuesday of the first week of the ordinary time, Year II)