A WORD FOR TODAY 14 JUNE 2019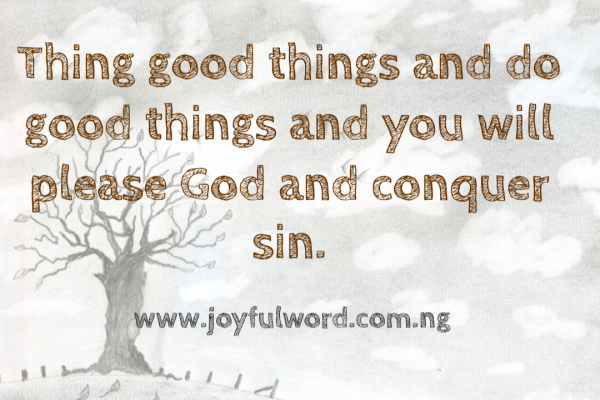 A WORD FOR TODAY
You cannot belong to Christ and not have the mark of His ownership on you. This mark will come in the form of the sufferings, pain and persecution we experience in His name. It helps us to share in His sufferings which invariably will lead to sharing in His glorification.
We have a responsibility to live out our Christian calling in a manner that will be pleasing to the Lord. This means that we must strive to be pure in heart and avoid occasions that will lead us to sin. We must guard our thoughts and senses and not allow them to grow wild and make us commit sin.
Jesus made the people know in the gospel reading of today that the process that leads to the actual committing of a sin could also be sinful in itself, therefore we must try to avoid such and guard against lust, because the one who lusts is as guilty as the one who committed adultery. We must raise our standard and apply apply discipline if we intend to live a good and holy life.
We must strive always to make heaven on the last day, and for that to happen, there is need for us to take our spiritual life seriously and avoid getting entangled with the things that could make us lose going to heaven.
Anything that comes between us and our desire to be with God and serve Him well must be avoided. We must not sacrifice our happiness in God because of pleasure or quest for material possession. Our priority should be to love God and please Him by thinking good things and by doing good things, and in this way we can be rest assured of gaining eternal life on the last day.
Good morning dearest one. Smile😊as you do your work and do have a wonderful day. May Jesus give you the grace to live a holy life so that you will gain eternal life. Amen. And may the Almighty God bless you: the Father and the Son and the Holy Spirit. Amen.
Meditation: 2 Corinthians 4:7-15/Psalm 116:10-11,15-18/Matthew 5:27-32
Watch-Word: We are afflicted in every way, but not crushed.
Fill your heart with God's Word, act on them and the power of sin cannot hold you down. Holiness is the key to being happy in and with God.