A WORD FOR TODAY 14 MARCH 2019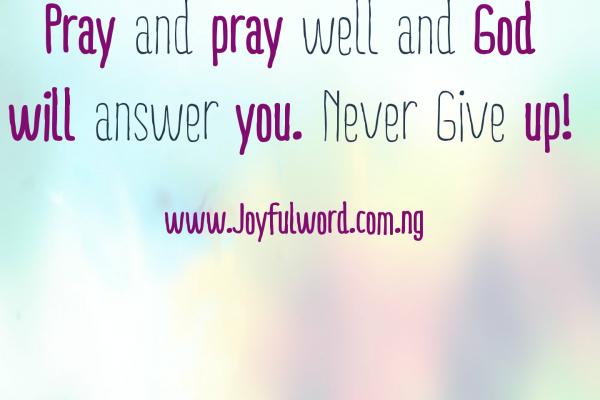 A WORD FOR TODAY
God is supreme and He is all knowing. Nothing is hidden from Him and He knows our situation. However, He has established prayer as the channel through which we will be able to communicate with Him and let Him know about the needs of our life.
Jesus in the gospel reading reminds us once again to take the issue of prayer seriously, because when we pray and pray well we must surely get a reply from the Lord. Whatever reply we get from the Lord when we Ask, seek or knock is the best, because He knows what we need and what will be good for us at every time.
In this season of Lent we are expected to grow in our prayer life. We must have faith in God and see Him as the one who takes care of us and we must present our petitions to Him with trust, believing that He will hear us and grant us our good heart desires just as Queen Esther did in the first reading.
God is good and He wants the best for us always. We may pray and ask for what we feel will be good for us, but in God's sight it could only bring us sadness in the end. He will answer our prayers in accordance with His will and we must submit ourselves in humility and accept it.
Do not joke with your prayer life, because there is power in prayer and he or she who can pray is rest assured of getting an answer from the Lord. The quantity of our prayers does not really matter, but the quality. We must believe in Him who is able to save us in our times of distress and we must call upon Him in season and out of season.
Do not remember to pray only when you have challenges or difficulties facing you, instead, pray at all times and God is always ready to hear you and grant you His blessings. Now is the time to pray. Simply rise and begin to pray well according to God's will and He will let His face shine upon you.
Good morning dearest one. Smile😊as you do your work and do have a magnificent day. May Jesus answer you and come to your aid when you call upon Him. Amen.*And May the Almighty God bless you: the Father and the Son and the Holy Spirit. Amen.
Meditation: Esther 14:1,3-4,11,13-14/Psalm 138:1-3,7-8/Matthew 7:7-12
Watch-Word: On the day I called, you answered me O Lord.
Do not give up! Pray to God with faith and He will answer you and fight your battle.