A WORD FOR TODAY 14 MARCH 2020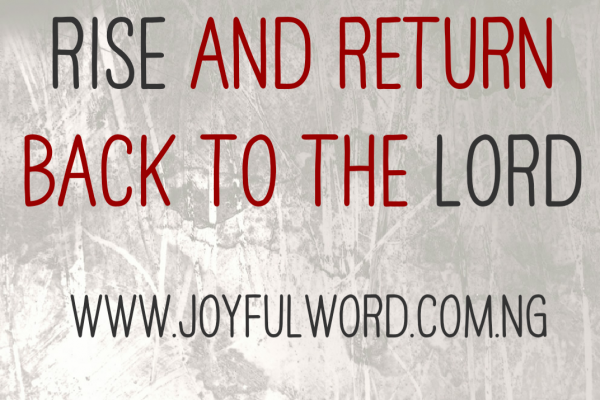 A WORD FOR TODAY
RISE AND RETURN BACK TO THE LORD
It will be counted to you as wisdom when you realise that you are on the wrong route and you quickly make a turn inspite of how far and how deep you have gone to return to the right lane and continue your journey. However, if you continue on the wrong route till the end it will simply amount to foolishness.
The story of the prodigal son or the prodigal Father as we have recorded in the gospel reading of today is one that shows us how deep God's mercy is. The father was always looking out to welcome his son who has wandered away, and when he returned, he was welcomed and restored to his rightful place.
We wander away and go through the wrong route when we let sin take hold of us. We drift and we are lost because we are no longer in control of ourselves. However, if we return to our senses and come back to God, we will find Him ready to welcome us back and help us to start afresh just like the prodigal son experienced.
Do not let your desire for the things of this life drive you to abandon God in whom your peace of soul lies, to chase after other things that can never make you happy. Be wise and learn to stay with God no matter what happens.
God's mercy is supreme and He is ready to welcome us back if we sincerely repent, make amends with a contrite heart, rise from where we have fallen and return to Him. Do not waste time anymore, why remain in sin and be unhappy, rise, take a step back home and you will see the mercy of God waiting to embrace you.
Good morning dearest one. Smile😊and do have a beautiful weekend. May God's grace help you to rise from where you have fallen so that you will be saved. Amen. And may the Almighty God bless you: the Father and the Son and the Holy Spirit. Amen.
Meditation: Micah 7:14-15,18-20/Psalm 103:1-4,9-12/Luke 15:1-3,11-32
Watch-Word: I will arise and go back to my Father.
In God you have all you need to be happy in body and soul, but outside Him, you have famine, sorrow and pain.
(Saturday of the Second week of Lent, Day 16)