A WORD FOR TODAY 14 NOVEMBER 2019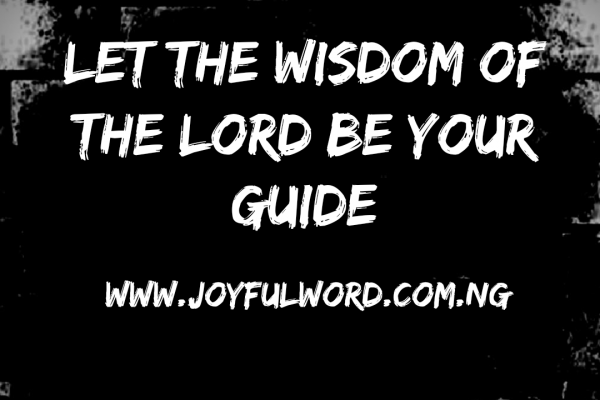 A WORD FOR TODAY
LET THE WISDOM OF THE LORD BE YOUR GUIDE
It is a known fact that sometimes in life we make mistakes in our actions, because we choose to do our personal will without finding out what the Lord wants us to do through the grace of His Spirit. This always comes at a cost, because we will not be happy with the result we get in the end.
The first reading of today reminds us that God loves the person who lives with wisdom so much, because it is the breath of the power of God and a pure emanation of the glory of the Almighty. This simply means that God is wisdom and If we have Him in us to be our guide we shall always live a life that is pleasing to Him and those who encounter us will definitely testify that we are of God.*_
When we are guided by the wisdom of God we will love the things that bring glory to the name of the Lord and we shall detest evil and anything that causes pain and harm to others. We shall always be ready to go the extra mile to put a smile on the faces of others and help the weak to become strong.
The wisdom of God helps us to live a life of love that makes the weak to become strong and the needy to find solace and succour through our assistance. God's wisdom is supreme and it is a gift He gives freely to anyone who desires it. If we have His wisdom and allow it to guide us, we will shine out as the light and those who come around us will never walk in darkness, but will be inspired by our words and actions to love the Lord and to always do His will.
If you fail to patronize and acquire wisdom as a virtue, you will love and act foolishly and your actions will always be selfish and destructive. A wise person will know when to speak and when not to speak. The person will not easily be deceived or led astray by those who do not know God and he or she will be the delight of the Lord, because the things he does will always be pleasing to Him.
God's kingdom will come when we let His wisdom guide us and we live a life worthy of our calling as His children. When we love as Christ has loved us and when we act in His honour we make His kingdom present. Wisdom is the key we need to be able to enter into God's kingdom and if we have it, we shall not be found wanting as God's children. Wisdom helps us to know who God is, and what He wants us to do.
Let God's spirit of Wisdom be your guide and you will do His will, live a good life, teach others to follow Him and you will remain steadfast in your faith commitment to Him even in the face of persecutions and sufferings. You will shine out as the light and people will want to hear from you and seek your guide to help them settle issues in their life.
Good morning dearest one. Smile😊as you do your work and do have a blessed day. May God's wisdom guide you so that you will do His will and teach others to do the same. Amen. And may the Almighty God bless you: the Father and the Son and the Holy Spirit. Amen.
Meditation: Wisdom 7:22-8:1/Psalm 119:89-91,130,135,175/Luke 17:20-25
Watch-Word: I am the vine, you are the branches says the Lord. He who abides in me, and I in him, bears much fruits.
Love wisdom always, let it guide your utterance and actions and you will be a good ambassador of Jesus in this life.
(Thursday of the 32nd week in the Ordinary Time, Year 1)