A WORD FOR TODAY 14 OCTOBER 2019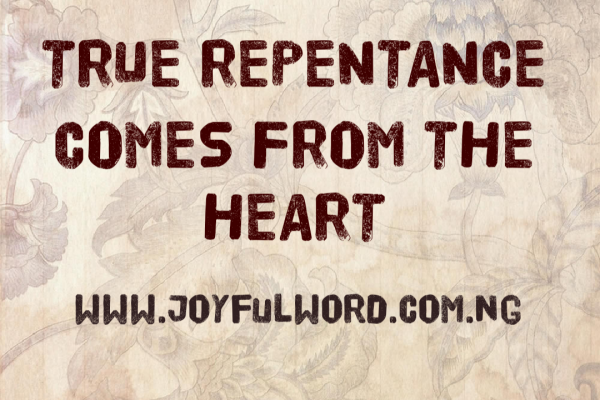 A WORD FOR TODAY
TRUE REPENTANCE COMES FROM THE HEART
If there is one thing the Good News we hear everyday should do in our lives, it must move us to believe in God, change our ways and accept Jesus as our personal Lord and Saviour. We must not wait for any sign before we believe as the people of this generation do, instead, we should believe with faith because God has revealed Himself to us in Christ Jesus.
Jesus in the gospel reading of today was not happy with the people of this generation, they were seeking for manifestations of signs and wonders from Him in order for them to believe that He is the Messiah, He tagged them an 'evil generation', because of their doubt and inability to let the Word proclaimed by Him move them to repentance. We must not wait to see signs and wonders before we believe in God, we should be move by faith and not by sight and faith comes by hearing the Word of God.
Many people today in our world have fallen into the hands of fake prophets and pastors who capitalise on their ignorance and incessant quest for miracles, signs and wonders to 'milk them dry' They look for miracle without faith and in the end they become empty and sad. God has given us the greatest sign and wonder in Jesus His only begotten Son and to believe in Him is the best thing we can do for ourselves.
God has given us the privilege to Know Him through His Son and we must recognize in Jesus the power of God for our salvation. We must believe in Him as the Holy One of Israel and by so doing we are not going to waste the privilege we have to be called God's children.
He who has Jesus, has everything, therefore, to seek signs and wonders, more than Jesus Himself is to show our lack of faith and we will not get anywhere with that kind of mindset and attitude. Jesus is greater than Jonah and Solomon and if their words could make the people Nineveh and queen of the south repent respectively, how much more will it happen if we can place our trust in Jesus and believe in Him without doubt.
True repentance comes from the heart and for it to happen we must submit ourselves totally to Jesus who will come to dwell in our heart and work in us. We must hold unto Him firmly with faith and with the knowledge that He is supreme above all things and to have Him as our Lord, saviour and friend is the greatest miracle that can ever happen to us. You do not need to seek for anyother thing or worry about situations of life when you have Jesus, simply put your trust in him and that will be enough, for He can do all things and will not let the challenges of this life overwhelm you.
Good morning dearest one. Smile😊as you do your work and do have a blessed New Week. May your trust in Jesus be firm and May you always seek Him more than miracle, signs and wonders, because He is greater than all of these. *And may the Almighty God bless you: the Father and the Son and the Holy Spirit. Amen.
Meditation: Romans 1:1-7/Psalm 98:1-4/Luke 11:29-32
Watch-Word: Today, if you hear His voice, harden not your heart.
Jesus is miracle, Jesus is the sign and wonder we need, recognize Him and put your total trust in Him and you will always experience the greatness of His power.
(Monday of the 28th week in the Ordinary Time, Year 1)