A WORD FOR TODAY 14 OCTOBER 2020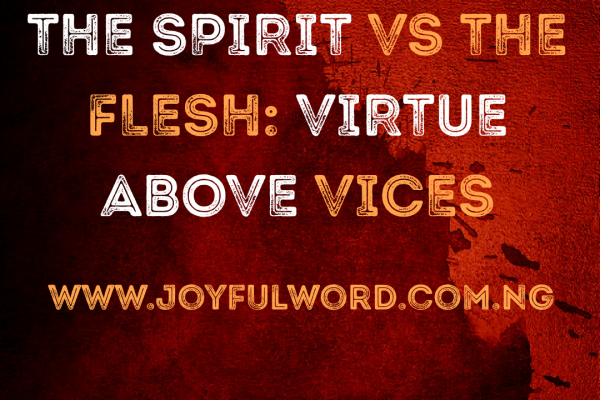 A WORD FOR TODAY
THE SPIRIT VS THE FLESH: VIRTUE ABOVE VICES.
"But the fruit of the Spirit is love, joy, peace, patience, kindness,goodness, faithfulness, gentleness, self-control; against such there is no law."(Galatians 5:22-23).
In order to do God's will, we need to let His Spirit dwell in our heart and guide us in all that we do. It is always difficult to claim to be in the light when our hearts are filled with darkness.
Saint Paul in the first reading of today reminds us, that if we belong to Christ and wish to be identified with Him, then the fruits we must bear are fruits of the spirit and not of the flesh. He makes a distinction between them and if we walk in the spirit we will not be able to gratify the desires of the flesh.
What the flesh desires is totally different from what the spirit wants and as children of God we must strive to identify with the spirit and not with the flesh. To live a life in the Spirit is to do God's will and to bear fruits for Him.
The flesh in this context represents the vices as highlighted by Saint Paul, but the spirit represents the virtues. We must work hard every day to get rid of the vices of immorality, envy, drunkenness, selfishness, anger etc. from our heart and replace them with the virtues of gentleness, peace, kindness, goodness, love, self-control and so on. The flesh and the spirit does not agree and cannot go together, therefore live in the spirit and you will not gratify the desires of the flesh.
If we dwell in the flesh we will not be able to please the Lord in our actions, because our mind will be fixed on the material and in the end it will be very difficult for us to do God's will.
Anyone who is led by the spirit of God will bear good fruits which will be seen and admired by all and it will bring honour and glory to the creator. We must strive to practice what we preach and not be like the Pharisees in the gospel reading who act differently from what they impose on others to do.
Good morning dearest one. Smile😊as you do your work and do have a lovely day. May Jesus help you to grow in virtue and conquer the vices in your life. Amen. And may the Almighty God bless you: the Father and the Son and the Holy Spirit. Amen.
Meditation: Galatians 5:18-25/Psalm 1:1-6/Luke 11:42-46
Watch-Word: He who follows you Lord, will have the light of life.
To live in the flesh is death but to live in the spirit is life. Choose life over death.
(Wednesday of the twenty Eight week in the ordinary time, year II.)