A WORD FOR TODAY 15 FEBRUARY 2020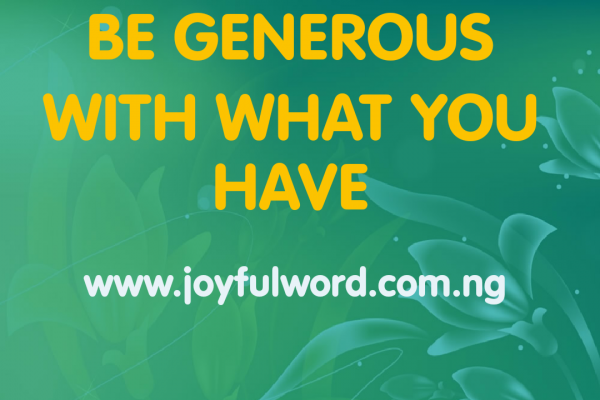 A WORD FOR TODAY
BE GENEROUS WITH WHAT YOU HAVE
When it comes to helping others we tend to have plenty of excuses why it will not be possible. We do it because we selfishly place ourselves first and what it will cost us to be able to offer such help. This, definitely, discourages us to help even when we know that the little we give from what we possess will go a long way in putting a smile on the face of the one we are helping.
The attitude of Jesus is totally different from that of his disciples as recorded in the gospel reading of today. The people have been with Jesus for three days and He fed their soul with His word, but he was also considerate and compassionate to them because he felt that they need to eat in order to be physically strong to return back to their homes. The disciples on the other hand were not ready to spend even the little loaves they have for the people, because, for them, they are too much a number of people to be attended to. They were afraid that their little loaves will not be enough for them, let alone supply for the needs of others.
However, when they gave their little seven loaves and small fish to Jesus, He blessed it and it turned to many loaves and the people ate to their satisfaction and there was left over. This is a miracle definitely, but the disciples had to let go of something so as to bring succour to the crowd who were already exhausted and famished.
We must learn from Jesus to be considerate and act with compassion always towards others. We meet people at different times and if we do not have the mind of Christ we could act selfishly against them and take advantage of them. We must be generous with what we have, because it will help us to be like Jesus who gave everything for us to be saved and be happy.
Try as much as you can to always be generous with your words and gifts. Do not be stingy, but be ready to give to others as God gives you everyday. Speak kind and inspiring words to people around you and do not kill them with your bad energy and vibes. Share that your little bread with someone in need and the person will be happy and you will be happy. You can never be poor by helping the poor from the little you have. Always place your little in God's hand and He will turn it into many.
Good morning dearest one. Smile😊as you do your work and do have a magnificent weekend. May God's love move you to share what you have with others who do not have, so that you will be like Him. Amen. And may the Almighty God bless you: the Father and the Son and the Holy Spirit. Amen.
Meditation: 1 kings 12:26-32;13:33-34/Psalm 106:6-7,19-20,21-22/Mark 8:1-10
Watch-Word: Man shall not live by bread alone.
Any good you do for the less privileged will open the door of heaven for you on the last day. Keep doing good selflessly.
(Saturday of the fifth week in the Ordinary Time, Year II)