A WORD FOR TODAY 15 MARCH 2020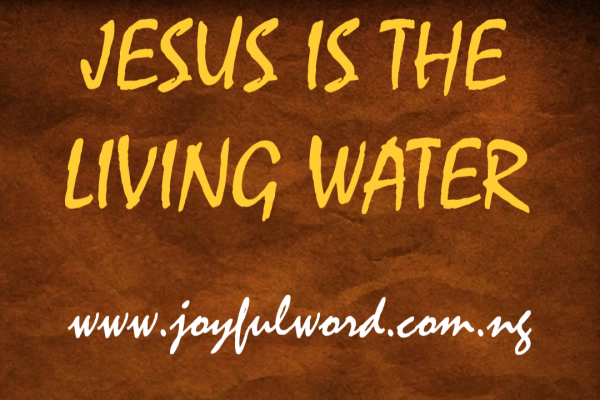 A WORD FOR TODAY
JESUS IS THE LIVING WATER
We say, that water is life and when you are thirsty, there is no other liquid that can quench your thirst well except water. We do a lot of things with water and even the human body is made up of a high percentage of water. Infact, we feel awful when we are dehydrated as a result of lack water.
We can see this when we look at the story in the first reading of today from the book of Exodus how God provided water to quench the thirst of the people when they complained against Moses. Although they were impatient and lost their trust in God because of their need for water, God did not allow them to die of thirst, instead He provided for them, but they were disciplined for their act of disobedience.*_
The woman of Samaria who came to the well to draw water as recorded in the gospel reading of today, encountered Jesus the Living water and she was transformed and through her many other people from the city came to encounter Jesus the Saviour of the world._
Jesus is the living water that can quench the thirst of our soul. Many times our life is dry and we seem to be lost and cannot find meaning in our existence. In such moments, all we need is to make a movement towards Jesus to encounter Him and to find peace for our soul.*_
Our heart has a deep thirst and desire of the spiritual that only God can satisfy. There is need for us to draw closer to Jesus always so that He can give us the peace we need in our soul. This peace cannot come from food or drink or anything material, but only from Jesus who is the living God.
We must let Him come and dwell in us and He will fill up the inner emptiness we have and we will be full. Our soul must long for the Lord as the deer longs for flowing stream. (Psalm 42). And in the words of Saint Augustine, "Our hearts are made for God, and they will never rest, until they rest in God."
We must not try to fill up our hearts with things that cannot satisfy our thirst for God, because it is only God that can fill up that emptiness. Meditate on God's word everyday and you will have the food that will nourish your soul forever. The Holy Eucharist is also food for the soul, receive it worthily and you will be filled.
Jesus is the living water who has come for us to have life. Draw near to Him today and He will quench your thirst, satisfy your desire and make you strong again. With Him you will no longer be afraid, but will be courageous to take a step towards actualizing your goal in life.
Good morning dearest one. Smile😊as you begin your day and do have a glorious Sunday full of God's blessings. May God help you to desire Jesus the living water so that you will be satisfied. Amen. *And may the Almighty God bless you: the Father and the Son and the Holy Spirit. Amen.
Meditation: Exodus 17:3-7/Psalm 95:1-2,6-9/Romans 5:1-2,5-8/John 4:5-42)
Watch-Word: Oh that today you will listen to his voice! Harden not your hearts.
Do not fill your heart with chaff, fill it with God's word and you will be satisfied.
(Third Sunday of Lent, Cycle A)