A WORD FOR TODAY 15 MAY 2020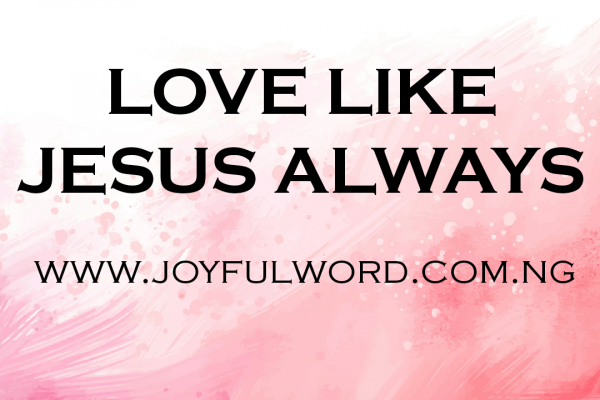 A WORD FOR TODAY
LOVE LIKE JESUS ALWAYS
"This is my commandment, that you love one another as I have loved you. Greater love has no man than this, that a man lay down his life for his friends. You are my friends if you do what I command you."(John 15:12-14)_
When it comes to the issue of love, people tend to define and see love from different perspectives. However, for those who believe in God, the Scripture becomes their compass and guide in understanding what true love means.
The Jesus' kind of love is totally different from the love that we see in the world. Jesus loved us selflessly and without any strings attached. It is a sacrificial love where He placed His life on the line for our own good. He left us an example to follow when it comes to love. This is the reason He is telling us today in the gospel reading to love one another as He has loved us. Therefore, any love we express to others that does not follow this standard is false, fake and selfish in nature and can never be from God.
The greatest fruit we can bear for Christ here on earth as His followers is the fruit of love and when we love as He has commanded us, we will not only bring glory and honour to His name, but also become an example to others who wants to follow the way of Christ.*_
It is the love of Christ that moved the apostles in the first reading of today to send Barsabbas and Silas to Antioch so as to let the Gentile community there know what the authentic teachings and stand of the Church are with regard to what they have been taught by other persons who were not grounded in the Christian faith.
The quality of our love for one another matters more to Jesus than the quantity. We must love freely without any strings attached. True love that is expressed must be ready to go to calvary and die for the one you love. We must bear the fruits of love which is characterised by goodness, forgiveness, leading others in the right path, working for peace, striving after holiness of life, assisting the needy and so on.
Our prayers are answered when it is offered from a heart full of love. We shall receive what we ask of the Father if we truly love others as Christ has loved us and if we lay down our life as a ransom for their good. Therefore, change your pattern of love from the world standard to Jesus' style and you will be happy forever. Love like Jesus always and heaven shall be your reward.
Good morning dearest one. Smile😊as you do your work and do have a blessed day. May we show love to others as we have received from Jesus and may God answer the prayers we off to Him. Amen. And may the Almighty God bless you: the Father and the Son and the Holy Spirit. Amen.
Meditation: Acts 15:22-31/Psalm 57:8-12/John 15:12-17
Watch-Word: Love one another as I have loved you.
If the love you profess and express does not add positive values to the one who receives it, then it is not a true love and should never be expressed in the first place.
(Friday of the Fifth week in the Ordinary Time. Cycle A.)