A WORD FOR TODAY 15 NOVEMBER 2019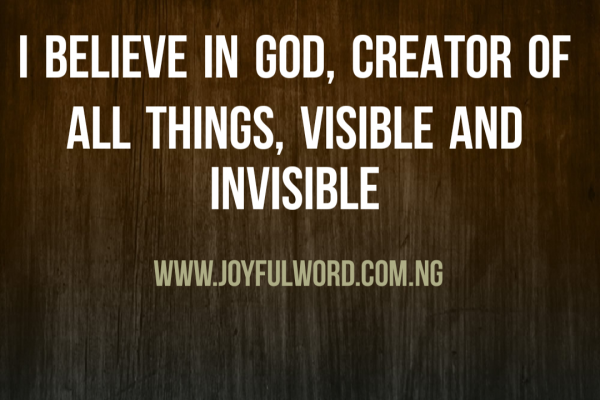 A WORD FOR TODAY
I BELIEVE IN GOD, CREATOR OF ALL THINGS, VISIBLE AND INVISIBLE
To claim not to know God is simply foolishness, because God is real and God is God and He is the maker of all things visible and invisible. He exists in Himself and can do all things. Therefore, ignorant of the existence of God will be counted as foolishness for us as we can see from the first reading of today.
It is truly only the fool that could say in his or her heart that there is no God. God exists and He is seen through all that He has made. We see the greatness of God through the beauty of the things He has made and created. We must transcend and move beyond the physical things, to perceive the spiritual Being (God) behind all the things that we see today in the world and this will simply be wisdom in action.*_
To say that God does not exist or to claim to be ignorant of Him after seeing all that He has done in this life will simply be foolishness, because He will continue to be God irrespective of whether we believe or we do not believe. However, it will do us good if we believe, because that will make us to find life, restoration, healing, upliftment and blessings in multiple packages. We need God and the best thing that could happen to us is to know who He is.
When you know God, you will know how He works and the things He wants from us. When you know God, you will be awake and alert always and nothing in this life will hold your attention more than Himself. When you know God you will live a life with the consciousness that the end will come one day, then you will be prepared and will never let the pleasures of this life deceive you from focusing on the beauty of eternal life in God's kingdom.
Be wise and not foolish. Choose wisdom always and let it guide you so that you make the right decisions at all times. Jesus Christ will come again, but we do not know when it will be, therefore, we must stay prepared and keep doing good so that His coming will not meet us unready like in the days of Noah or the days of Lot. We must not he distracted by eating and drinking and making merry and forget to be ready for the Lord's coming.
A life without focus is a wasted one. A life without focus is heading for disaster. A life without focus is the hall mark of foolishness and stupidity. This should never be your lot if you intend to be with God on the last day. Do not be distracted by the things of this life and how beautiful they look, both humans and things, always go beyond them and see the greatness and greater beauty of the Creator who made them to be, then you will live your life well so that you will be with Him in heaven on the last day.*_
Good morning dearest one. Smile😊as you do your work and do have a wonderful day. May God's grace help you to do His will and ti be ready at all times for the coming of our Lord Jesus Christ. Amen. *And may the Almighty God bless you: the Father and the Son and the Holy Spirit. Amen.
*Meditation:* Wisdom 13:1-9/Psalm 19:2-5/Luke 17:26-37
*Watch-Word:* The heavens declare the glory of God.
_*God is the greatest, find Him and you will have no need of anything else in this life and in the life to come.*_
(Friday of the 32nd week in the Ordinary Time, Year 1)