A WORD FOR TODAY 15 NOVEMBER 2020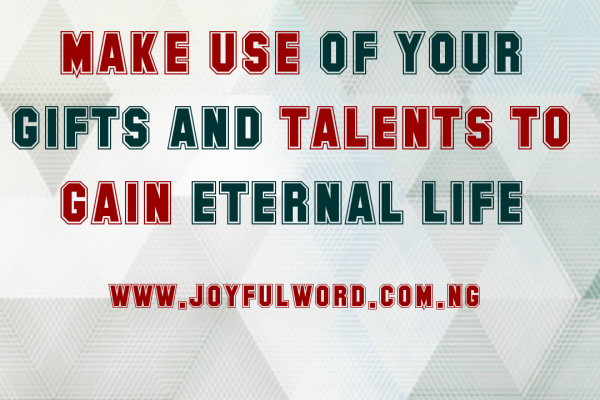 A WORD FOR TODAY
MAKE USE OF YOUR GIFTS AND TALENTS TO GAIN ETERNAL LIFE.
_"And he who had received the five talents came forward, bringing five talents more, saying, 'Master, you delivered to me five talents; here I have made five talents more.' His master said to him, 'Well done, good and faithful servant; you have been faithful over a little, I will set you over much; enter into the joy of your master"(Matthew 25:20-21)_
_*The readings of this Sunday focusing on the end of time as the year gradually comes to an end, are rich in admonitions that will help us to stay focused as Christians and to continue to make progress in our journey as pilgrims on earth.*_
_The first, second and gospel readings, focus on working and doing something positive with what we have been given as gifts so as to be able to gain eternal life on the last day._
_*The Scripture is wise to present to us in the first reading of today the woman as an epitome of hardwork and industriousness. This is a positive assessment of the feminine gender when compared with the negative description we find in Sirach 26:12-36 where she is called a chatterbox, wanton, jealous, curious and frivolous.*_
_A good wife or woman is the joy of her home, she brings peace and serenity. She works hard and takes care of everyone. She is dedicated and never idle. She is generous, never stingy nor greedy, but helps anyone in need and supports the Church. She fears God and keeps His commandment. She is not interested in appearance, but in the essential and important things of life. For those intending to get married, find this kind of woman or man and you will live long._
*SHE BRINGS HAPPINESS*
*SHE WORKS HARD*
*SHE IS GENEROUS AND KIND*
*SHE IS GOD FEARING*
_He who wants to succeed in life does not sleep when he is supposed to be working. If we want to enter into etetnal life at the end of time we must stay awake and keep shinning in words and deeds as the children of light._
_*Among all the servants in the gospel reading who received talents from the master, only one did not make use of what was given to him. He hid and buried his talent and in the end he suffered for it. He was not creative, but lazy and did not want others to benefit from what he has. Strive not to be like him and you will be happy.*_
_All those who made use of their talents to make profits for the master were rewarded abundantly. This should be our priority in life. God has given us gifts to be used for His glory in this life, we must get down to work and use it to do good and not evil, so that when the end comes and the time of giving account of our stewardship arrives, our dedication in God's service will give us admittance into eternal life._
_*Do not be idle, do not let the gifts and talents of God in you lie dormant and waste away. Do not lose your gift by failing to make use of it. Use your gift to serve God and the people and your reward will be assured. Make effort and kill attitude of laziness and idleness in you before it ruins and destroys you.*_
_Good morning dearest one. Smile😊 as you begin your day and do have a beautiful Sunday. May Jesus give you the grace to use your gifts to gain eternal life. Amen. *And may the Almighty God bless you: the Father and the Son and the Holy Spirit. Amen.*_
*Meditation:* Proverbs 31:10-13,19-20,30-31/Psalm 128:1-5/1 Thessalonians 5:1-6/Matthew 25:14-30
*Watch-Word:* For to everyone who has, more will be given and he will have abundance.
*Make use of your gifts now for God and humanity and there will be no regret in the end.*
(Thirty Third Sunday of the year. Cycle A.)
*PRAY WITH ME*
_Lord, grant me the grace to discover the talents you have given to me, help me to use them to work and bear good fruits for you in the world, so that I may be found worthy to enter into eternal life in the end. Amen. 🙏🏾_