A WORD FOR TODAY 15 SEPTEMBER 2022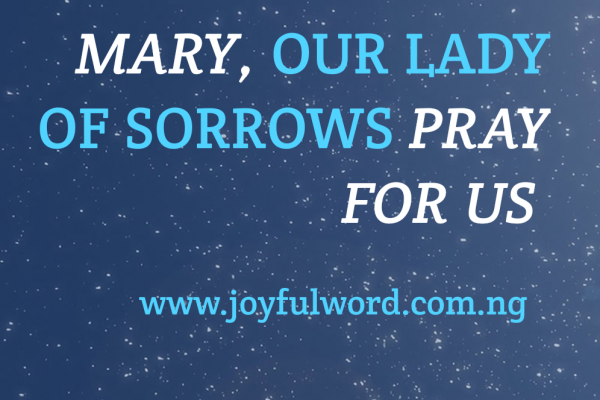 *A WORD FOR TODAY*
*MARY, OUR LADY OF SORROWS PRAY FOR US*
_"But standing by the cross of Jesus were his mother, and his mother's sister, Mary the wife of Clopas, and Mary Magdalene."(John 19:25)_

*MARY'S TITLE*
_*Today the holy Mother Church celebrates the memorial of Our Lady of sorrows. It is one of the title given to our Lady because of what she has to go through in life in terms of pain and agony by being the mother of Jesus.*_
*THE PROPHECY OF SIMEON*
_At the presentation of the child Jesus in the temple in Luke 2:22-39, the prophet Simeon specifically in verse 34-35 said to Mary the Mother of Jesus, Behold, this child is set for the fall and rising of many in Israel, and for a sign that is spoken against (and a sword will pierce through your own soul also), that thoughts out of many hearts may be revealed."_
*PROPHECY FULFILLED*
_*This prophetic statement will come to be filfilled in the life of the Blessed Mother. Her soul was truly pierced with a sword by the pain and sufferings she bore while following Jesus, but she never complained, instead, she remained faithful until the end.*_
*The seven sorrows of Our Lady are:*
-The Prophecy of Simeon (Luke 2:34-35)
-The Flight into Egypt.(Matthew 2:13-21)
-The Loss of the Child Jesus in the temple(Luke 2:41-50)
-The carrying of the cross(John 19:17)
-The Crucifixion of Jesus(John 19:18-30)
-Jesus is taken down from the cross(John 19:39-40)
-Jesus is laid in the tomb(John 19:39-40)
*SHE REMAINED FAITHFUL*
_*In all that Our Lady had to go through in life, she remained faithful until the end. She never deviated from the faith or abandoned the mission of God for her life. She constantly pondered everything in her heart and bore them patiently.*_
*MARY CARRIED HER CROSS*
_It is not a coincidence that we are celebrating this memorial just after celebrating the feast of the exaltation of the cross. Infact, Mary was foremost among those who bore their cross to follow Jesus. She stood with Jesus from birth to death, in joy and pain. She is humility and faithfulness personified and such virtues we must possess if we intend to follow Jesus and be with Him in heaven._
*BEAR YOUR CROSS PATIENTLY*
_*We must carry our daily cross to follow Jesus just as Our Lady bore her own cross. We must bear it patiently, but remain faithful to our mission. We must learn from the Blessed Virgin Mary not to give up, but to stay with Jesus and hold unto Him firmly even in the most difficult times of our lives.*_
*SHE STOOD WITH JESUS IN PAIN*
Standing by the cross where Jesus was crucified, our mother Mary was deeply in pain, but she stood there in solidarity. Receiving the body of Jesus when He was taken down from the tomb was also an excruciating moment, but she remained calm. She followed Him through the calvary journey and also died with Him. Jesus in love has given His mother to us through the beloved apostle John and also handed us over to her, we must constantly strive to love her and learn from her virtues as we journey through life.
*GET SUPPORT FROM MARY*

_*What sorrow are you experiencing in life at the moment, what pain are you feeling and going through? You can get support from Mary so that you will be able to overcome as she overcame her own. She will intercede for you and obtain for you the grace to rise above your pain and win your battle. Draw closer to her Immaculate heart and constantly honour her with the prayer of the Rosary and her maternal care will sufficiently be available for you.*_
_Good morning dearest one. Smile😊as you do your work and do have a lovely day. May the intercession of the Blessed Virgin Mary help you to bear your cross and follow Jesus everyday. Amen. *And may the Almighty God bless you: the Father and the Son and the Holy Spirit. Amen.*_
*Meditation:* 1 Corinthians 15:1-11/Psalm 118:1-2,15-17,28/John 19:25-27
*Watch-Word:* Woman, Behold your son, Son, behold your Mother.
*God has given us the Blessed Virgin Mary as an example of humility and faithfulness, we must love her and atay close to her heart*
(Thursday of the twenty-fourth week in the ordinary time. Memorial of Our Lady of Sorrows)
*© Rev. Fr. Augustine Eleke*