A WORD FOR TODAY 16 APRIL 2020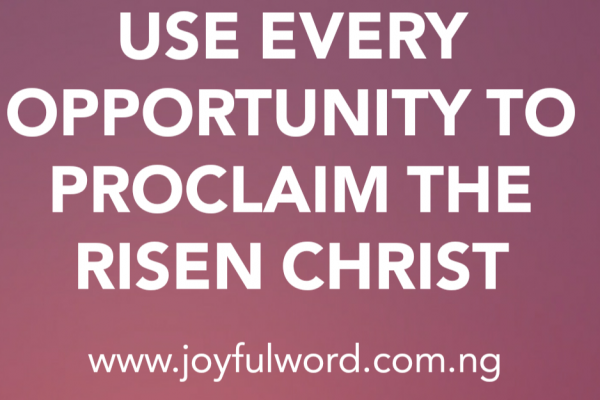 A WORD FOR TODAY
USE EVERY OPPORTUNITY TO PROCLAIM THE RISEN CHRIST
"And when Peter saw it he addressed the people, "Men of Israel, why do you wonder at this, or why do you stare at us, as though by our own power or piety we had made him walk? The God of Abraham and of Isaac and of Jacob, the God of our fathers, glorified his servant Jesus, whom you delivered up and denied in the presence of Pilate, when he had decided to release him" (Acts 3:12-13)
Opportunity, they say, comes but once, but for me it is something that comes from time to time in our daily existence. However, what you do when it presents itself matters a lot. There are situations that may confront us and some may see no hope to live anymore, but you will see those who inspite of the hopeless situation will keep there hopes alive and make something meaningful out of the whole scenario.*_
In difficult times just like we have in the world today, you will see those who will not let the gloomy nature of this moment break them apart. There are some who inspite of the challenges that confront them will see opportunity to blossom where others may only see trouble and pain.
Peter did not let the opportunity he had to proclaim Christ as we have in the first reading of today pass him by. After the healing of the lame man, people started asking questions about how that could happen and who was responsible for that miracle. He tapped into it and used that moment to proclaim Christ crucified and to win more souls to Him. An opportunity missed to do something good may never come again, therefore, be consciously aware of who you are in Christ and utilise the opportunity you have to speak about Him in words and deeds.
In the gospel reading we see how Jesus appeared before His disciples and showed them that He has risen. He explained the Scriptures to them and their eyes were opened. It is an encounter that will put to rest any doubt whether He has truly risen, because before now, many stories has been making rounds and they were not sure whether it is true or not. Jesus gave them peace, showed them that it is Him and they now had an extra confidence to go out and proclaim His name.
We have the opportunity now to win souls for Christ through what we say and what we do. If it is going to happen, we must be determined to keep moving even when odds are against us. We must have a dogged spirit that will not give up at any time, but will continue to make use of whatever platform that presents itself to proclaim the name of the Lord. We must study the Scriptures more to learn about Christ and we will have words to share with others when they come to us and our words will move them to repentance and they will find salvation.
Good morning dearest one. Smile😊as you do your work and do have a splendid day. May Jesus give you the grace to recognise opportunities when they come your way and may you always proclaim His name. Amen. *And may the Almighty God bless you: the Father and the Son and the Holy Spirit. Amen.
Meditation: Acts 3:11-26/Psalm 8:2,5-9/Luke 24:35-48
Watch-Word: This is the day the Lord has made.
Use the opportunity you get to do good and win souls for Christ and you will have a place in His kingdom on the last day.
(Thursday of the Octave of Easter. Cycle A)