A WORD FOR TODAY 16 AUGUST 2019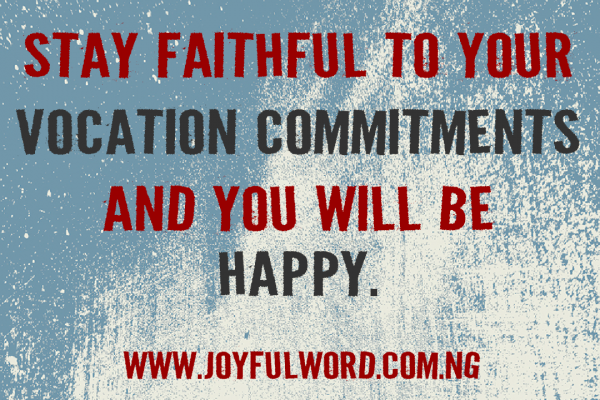 A WORD FOR TODAY
In the first reading if today, Joshua has assumed the leadership position after Moses passed on and he immediately had to remind the people of all that the Lord has done to bring them to where they are and the blessings that they are enjoying. They were not to take it for granted, but be appreciative for the goodness of the Lord in their lives.
We must constantly remind ourselves of the Lord's goodness and mercy to us and that will help us to be grateful and give Him thanks from the depth of our heart. To forget to give thanks to the Lord for His goodness to us will amount to being ungrateful and ingratitude is a vice that must be expunged from our heart.
When we recount the goodness of the Lord in our life, it should move us to make a commitment of faithfulness to Him. We must strive to be faithful in appreciation to God for all the good He has done for us. Our faithfulness to Him is the best way to thank Him for the multiple blessings and favours we receive on a daily basis.
The gospel reading of today focuses on marriage and Jesus did not waste anytime to reply the pharisees who came to test him. He told them that marriage is between a man and a woman and by coming together to be united in love in God they become one until death separates. Divorce is not in the plan of God for marriage.
Every vocation in life has laws that guides it, which helps those who embrace it to live it out faithfully. Whether married or single, you can live out your vocation well to the glory of God and you can make heaven on the last day. When you marry for convenience, you may not be able to face the challenges that may arise in the course of your marriage, but if you marry for love you will remain faithful till the end.
The couple that agree to love each other in marriage must work hard everyday to remain faithful to their marriage commitments. They should not give room for any act of unfaithfulness to come and destroy their bond. They should work hard everyday to make sure that the love that binds them continues to be new everyday. This will happen when they forgive, care and help each other to live out their marriage commitments well.
You must work hard to make your marriage work, because it involves giving and taking. you must give love and you should take love. You must give respect and you should receive respect too. You must give peace and make sacrifice for your spouse and you should receive the same from him or her too. When the foundation of a union is not built on love, fidelity, mutual respect and willingness to make sacrifice for each other then that union will definitely crash over time.
For those who are married, keep working hard to make your marriage the best. If you are experiencing any challenge, pain, hurt or difficulty at the moment, do not give up, but keep making effort through prayers and commitment to heal and keep moving forward. If you are not yet married, but you are planning to, try and marry because of love and not because of convenience. Above all, no matter what your vocation is in life, you must strive to remain faithful and you will be happy and God will be happy with you too.
Good morning dearest one. Smile😊as you do your work and do have a magnificent day. May God's grace help you to remain faithful in your vocation commitments both to God and to humanity. Amen. *And may the Almighty God bless you: the Father and the Son and the Holy Spirit. Amen.
Meditation: Joshua 24:1-13/Psalm 136:1-3,16-18,21-22,24/Matthew 19:3-12
Watch-Word: O give thanks to the Lord for He is good
Every vocation has it's own challenges, stay focused, disciplined and committed to your commitments and you will overcome and find everlasting joy.