A WORD FOR TODAY 16 DECEMBER 2019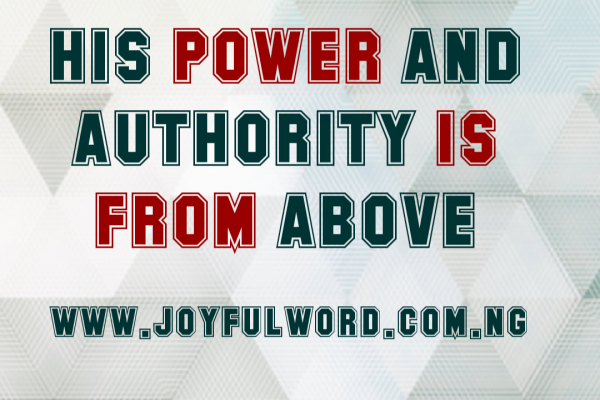 A WORD FOR TODAY
HIS POWER AND AUTHORITY IS FROM ABOVE
The encounter that Jesus had with the chief priests and the elders of the people in the temple is one that teaches us something about applying wisdom in responding to issues that confront us. Jesus knew where His power and authority came from, but He does not need to prove anything to them because they also know that His power is from God, but they chose to pretend to be ignorant of it so as to lay a trap for Him. However, Jesus applied wisdom in His response and they left humiliated._
Jesus did not come into the world by Himself. He was sent by the Father and if we read the narrative of His birth in the gospel of Luke we will definitely see that He has the authority as the Son of God to come into the world and save the people from eternal damnation. God's Spirit was upon Him and everything He did was for the good and redemption of man. He is the Son of God whether they chose to believe Him or not.
The truth is that Jesus has come from above and the power to do all He did; healing the sick, cleansing lepers, opening the eyes of the blind, making the dumb to speak, raising the dead, proclaiming the Good News, e.t.c is also from above and He does not need to begin to convince those who alrwady know this truth, but chose not to believe it simply because they do not like Him or are biased about Him._
The truth remains the truth whether you choose to believe it or not. God is God and He can do all things. If we belong to Him, we shall also have the mandate and authority to do good in His name. We shall proclaim the Good News and His power and presence shall be made manifest through the works that we do. All we need to do is to abide in Him and put our trust in Him without doubt and He will make use of us to manifest His glory and power in this life.
Our responsibility is to believe in Christ and to make others come to believe in Him too. If we are going to be true disciples of Jesus we must seek to know Him who is the truth and we must live it out everyday so that those who do not know Him will come to believe in Him through our actions. We must know the truth, believe in the truth and teach the truth._
Jesus is the Son of God and He is the star that came forth from root of Jacob and the scepter that rose out of Israel as balaam prophesied in the first reading. He is great and everything about Him is great. He will rule forever and His kingdom will have no end. You must remain steadfast in serving Him and you will also receive the grace and power to act in His name. Do not reject Him as the pharisees did, but believe in Him and He will take care of you and make you wise so as to be able to defeat those who will come to lead you astray or confuse you.
Good morning dearest one. Smile😊as you do your work and do have a blessed New week. May Jesus give you the grace of wisdom so that you will know the truth, believe in it and speak the truth always. Amen. *And may the Almighty God bless you: the Father and the Son and the Holy Spirit. Amen.
*Meditation:* Numbers 24:2-7,15-17/Psalm 25:4-9/Matthew 21:23-27
*Watch-Word:* Teach me your paths, O Lord.
_*When your power and authority is from above, you will conquer the world and everything it throws at you.*_
(Monday of the Third Week of Advent, Year A)