A WORD FOR TODAY 16 FEB 2019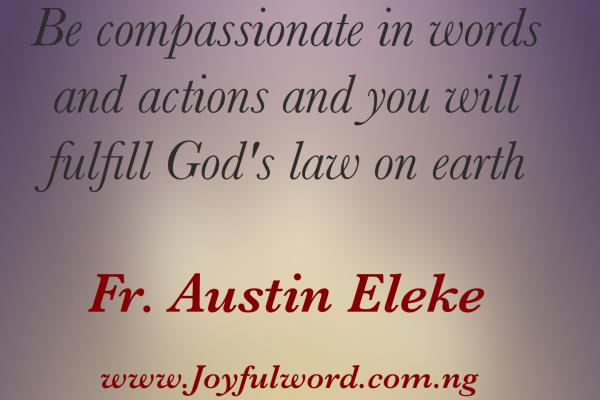 A WORD FOR TODAY
Every sin we commit has a corresponding consequence and punishment that goes with it. Our first parents Adam and Eve sinned against God in disobedience and they tried to blame each other as the reason for their fall. We must learn to take responsibility for our actions, acknowledge our sins and apologize to God whenever we sin against Him so as to find mercy and forgiveness.
The punishment that Adam and Eve received from God is not one that leads to destruction, but one that disciplines and saves. God's punishment for sin does not kill the sinner, but makes the sinner to realize His mistakes and make sincere amends about them.
The compassion and mercy of the Lord is greater than any sin we could ever commit. All that the Lord requires from us is to acknowledge our sins before Him in humility and ask for pardon so as to find the forgiveness we seek.
The compassion of God is seen in Jesus' feeding of the four thousand. He had compassion for them and He made provision for their need. God is always ready to take care of us and help us if we are able to draw near to Him. Why allow the weight of your sin to hold you down when you have a God full of mercy and compassion who can help you.
We must also learn from Jesus to be compassionate and merciful to others. We must feel the pain of people and the need they have and see how we can help them to get the necessary assistance that will put a smile on their face.
Good morning dearest one. Smile 😊 as you do your work and do have splendid weekend. May Jesus' mercy for you move you to be merciful and compassionate to all those in need, both spiritually and physically. Amen. And May the Almighty God bless you: the Father and the Son and the Holy Spirit. Amen.
*Meditation:* Genesis 3:9-24/Psalm 90:2-6,12-13/Mark 8:1-10
*Watch-Word:* I have compassion on the crowd!
Be compassionate in words and actions and you will fulfill God's law on earth