A WORD FOR TODAY 16 FEBRUARY 2020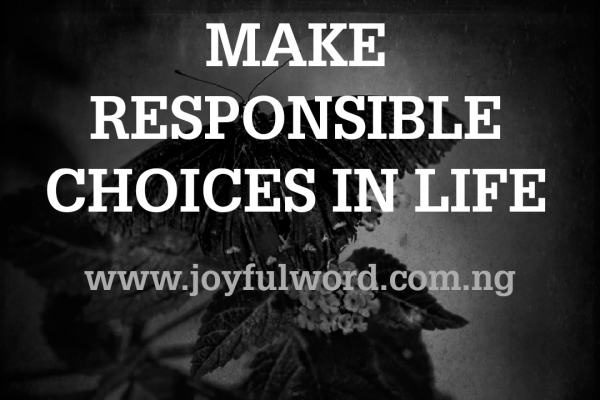 A WORD FOR TODAY
MAKE RESPONSIBLE CHOICES IN LIFE.
There is no doubt that what we do in life and sometimes what happens to us is as a result of the choices we make. We are created by God and given the freedom to make the choices we want in life and if we make the right choice we shall live and be saved, but if we make the wrong choice it will lead to pain and death.
The first reading of today from the book of Sirach reminds us that God has set before us fire and water, life and death, good and evil, what we get and who we become will definitely depend on the choice we make. Therefore, learn to make responsible choices in life and you will never regret it.
Responsible choice is the choice one makes with the view of bringing happiness into his or her life. The choice is done with the aid of God's wisdom. You cannot make this choice if you do not let the Holy Spirit guide you.
We belong to God and if we do His will by keeping His commandments, we shall be rewarded with eternal life and we shall be saved from eternal damnation and you will be blessed beyond your imagination. Blessed indeed are those who walk in the way of the Lord.*_
For us to able to make the right choice in life, we must let God's Spirit guide us and lead us aright. We must always place before us the promise of God that we shall live with Him in heaven on the last day if we do His will and keep His commandments. This will help us to always say yes to what God wants and no to the deception of the devil and his agents.
Jesus tells us in the gospel reading that He did not come to abolish the law of the Lord but to fulfil it. This simply means that His food while He was on earth was to do the will of His Father, therefore, if we claim to belong to Him, We must be ready to let God's will be done in our life. We must keep God's commandment and teach others to do the same. We must control our temper and stay away from actions that flow from anger, vengeance and resentment. We must control our senses, be at peace with one another and make sure that whatever we do or say will be in accordance with God's law.
To make the choice to follow God's way is to let Him direct your path and show you the things that will lead to life and not death. Let Him fill your heart and mind with His grace and you will keep His words and you will also find eternal life._
Good morning dearest one. Smile😊as you begin your day and do have a blessed Sunday. May God's Spirit help you to always make the right choice by keeping His His commandments in words and deeds. Amen. And may the Almighty God bless you: the Father and the Son and the Holy Spirit. Amen.
Meditation: Sirach 15:15-20/Psalm 119:1-2,4-5,17-18,33-34/1 Corinthians 2:6-10/Matthew 5:17-37
Watch-Word: Blessed are those who walk in the law of the Lord.
Obedience to God's commandment is the surest way to be happy in life.
(Sixth Sunday in the Ordinary Time of the Year, Cycle A)