A WORD FOR TODAY 16 JAN 2019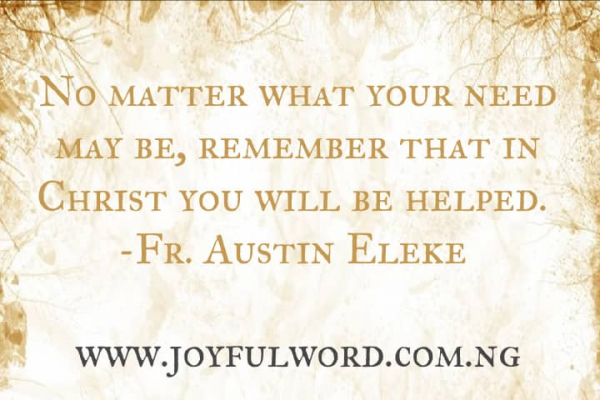 A WORD FOR TODAY
When we have need we must come to Jesus for help. He is a sure helper in our times of need. However, we must approach Him with faith and we will be able to receive what we seek and desire.
Jesus came in order to set us free from the dominion of darkness and anyone who comes to Him with faith seeking His help must surely find Him.
No matter what your need may be, remember and believe that in Christ you will be helped. He does not abandon us to die in our challenges, but comes to our aid to lift us up and make us well again.
Are you sick? Are you worried or troubled? Are you tormented by evil forces? Are you being tempted to fall into sin? Are you wounded by sin? These and many more could be your present condition. Do not give up, just come to Jesus. He suffered and had been tempted and He can help you.
As children of God we must be ready to lead others to Christ so that they will find Him and get the help they need. We should never be an obstacle in the part of those who seek Christ, instead we should help them to find Him and be helped.
Good morning dearest one. Smile😊as you do your work and do have a wonderful day. May Jesus come to your aid and give you the help you need. Amen. And May the Almighty God bless you: the Father and the Son and the Holy Spirit. Amen.
*Meditation:* Hebrews 2:14-18/Psalm 105:1-4,6-9/Mark 1:29-39
*Watch-Word:* He rose and went out to a lonely place and prayed!
There is nothing too hard for the Lord to do, but we must be willing and ready to be helped before we can find the help we seek. #Activate your faith!