A WORD FOR TODAY 16 JANUARY 2021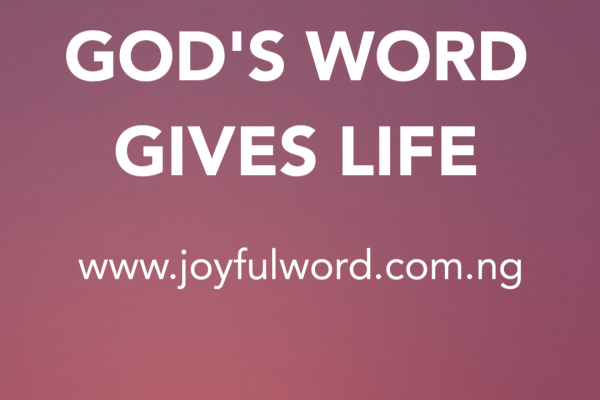 A WORD FOR TODAY
GOD'S WORD GIVES LIFE
_"For the word of God is living and active, sharper than any two-edged sword, piercing to the division of soul and spirit, of joints and marrow, and discerning the thoughts and intentions of the heart."(Hebrews 4:12)_
_*God revealed Himself to us through His Word and anyone who accepts His word and act on them must surely have life. God's word is something we must treasure because it nourishes us and helps us to stay focused.*_
_The author to the letter to the Hebrews tells us that God's word is alive and active and it is sharper than two-edged sword. The word became flesh and it dwelt among us. In the word of God we find healing, restoration, joy, peace, comfort and life._
Jesus is the Word of God made flesh and He is our eternal high priest, if we open our hearts to welcome Him and receive Him, He will take care of us and things shall go well for us.
_When we nourish our life with God's word on a daily basis, we will definitely bear good fruits for the Lord and we will never be led astray. When His word dwells richly in us, we will not be confused, but will stay focused on our mission of serving Him. We will do well and we shall be ready to show others the way that leads to God._
_*Today we see in the gospel reading how Jesus called Levi to come and follow Him. He was called to come and proclaim the Good News. He left everything and followed Jesus, because He has the message of eternal life. If we are going to proclaim the word, we must first of all draw closer to Jesus who is the word of God and learn from Him so that we will be able to share with others what we have learnt.
_God's word gives life and if you nourish your soul with His word, you will find peace and you will have the spiritual energy to be able to overcome the challenges of life that comes your way. If we dispose ourselves and receive His word we shall find conversion and we will become a channel through which others who do not believe in God will come to accept Him._
_*Good morning dearest one. Smile😊as you do your work and do have a wonderful weekend. May Jesus give you the grace to open your heart and receive His word. Amen. And may the Almighty God bless you: the Father and the Son and the Holy Spirit. Amen.*_
*Meditation:* Hebrews 4:12-16/Psalm 19:8-10,15/Mark 2:13-17
*Watch-Word:* Your Words, O Lord, are Spirit and life.
*God's word is the real food for the soul, eat it everyday and you will be happy and satisfied. There is power in the word of God.*
(Saturday of the first week in the ordinary time. Year I)