A WORD FOR TODAY 16 JUNE 2019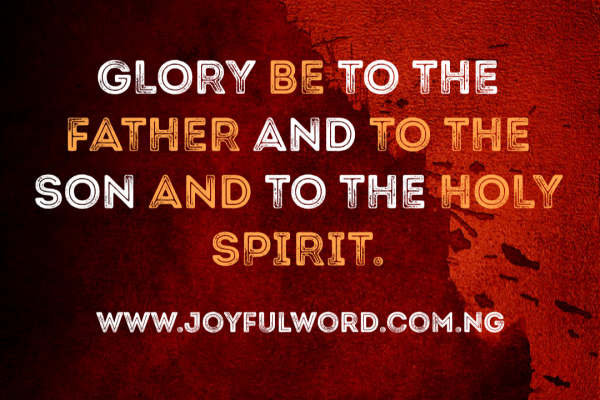 A WORD FOR TODAY
Today the universal Church celebrates the Solemnity of the Most Blessed Trinity. It is one of the fundamental teachings of the Church and it stands at the centre of our Christisn faith. It gives us the knowledge of our belief in the One God, who is composed of three distinct persons of the Father the creator, the Son the redeemer and the Holy Spirit the sanctifier. It is a mystery of our faith and with faith we must believe it as an indisputable truth.
The Father and the Son and the Holy Spirit, united in love have continued to work in us and through us. Their generousity is what we enjoy everyday and it is their intent that we must resemble them and continue to emulate their example in the course of our work and activity.
The Father revealed Himself in Christ and when His work of redemption was done, the Holy Spirit came to continue to lead His disciples into all truths about God and His kingdom.
Our primary responsibility on a day like this is to affirm our belief in the doctrine and mystery of the Blessed Trinity and to be proud to teach it everywhere we go. Then, we will come to learn from the Trinity to remain humble, united, generous, loving and peaceful.
We must learn from this solemnity to continue to work hard to to emulate the Blessed Trinity in their unity. This will help us to see our diversity not as a reason to quarrel and fight, but as that which will help us to achieve greater things together and add more joy and happiness to our world.
The Father created in wisdom and when man fell, in His love, the Father sent the Son to come and die in order that Man will be saved. The Holy Spirit who is the third person of the Trinity is a gift from the Father to us who will continue to teach us and sanctify us until Jesus returns.
Good morning dearest one. Smile😊as you begin your day and do have a blessed Sunday. May the Most Blessed Trinity bring you peace and unity in your family. Amen. And may the Almighty God bless you: the Father and the Son and the Holy Spirit. Amen.
Meditation: Proverbs 8:22-31/Psalm 8:4-9/Romans 5:1-5/John 16:12-15
Watch-Word: Glory be to the Father and to the Son and to the Holy Spirit. Amen.
Unity in the Trinitarian God head is a virtue we must strive to possess as we live for God and represent Him here on earth.