A WORD FOR TODAY 16 MARCH 2019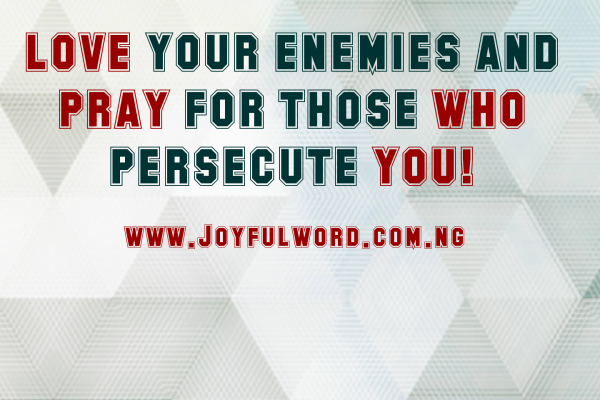 A WORD FOR TODAY
Holiness involves action. If you want to be holy as God, you must definitely do something and what you will do will be in accordance with God's law. We cannot desire to be holy and then fold our hands without working hard to achieve it.
In order to be holy we must keep God's law and statues and walk in His ways. We must obey the voice of the Lord since we have declared for Him. We shall become His possession and do whatever He asks us to do and our lives will be blessed on earth.
Jesus in the gospel reading makes a demand from His disciples on the need to go a step further to love their enemies if they intend to be His true representatives here on earth. We must love our enemies and pray for those who persecute us just as Christ did and we will be like Him.
In order for us to be able to love those who persecute us and seek their good we must be ready and willing to Let Jesus be our guide and example. If we follow Him we must do as He did. He will give us the grace that will enable us to do that which people think is impossible.
When we show love to those who persecute us and pray for them, we will no longer hate them and our grace of holiness will grow and we will come to be like God who is Holiness Himself. We gain whenever we strive to be like Jesus and sometimes the things we do to be like Him could be very demanding and challenging.
Christian love involves doing something different from the style of the world. We must take our model from Christ who when He was dying on the cross prayed for those who killed Him and forgave them. We can do the same if we let the Spirit of Jesus possess us.
Good morning dearest one. Smile😊as you do your work and do have a splendid weekend. May Jesus give you the grace and inner strength to be able to love your enemies and pray for those who persecute you. Amen. *And May the Almighty God bless you: the Father and the Son and the Holy Spirit. Amen.
Meditation: Deuterenomy 26:16-19/Psalm 119:1-2,4-5,7-8/Matthew 5:43-48
Watch-Word: You, therefore must be perfect, as your heavenly Father is perfect.
Loving those who hurt and persecute us is not an option, but the way to go if we wish to be like Jesus and make heaven on the last day.