A WORD FOR TODAY 16 NOVEMBER 2019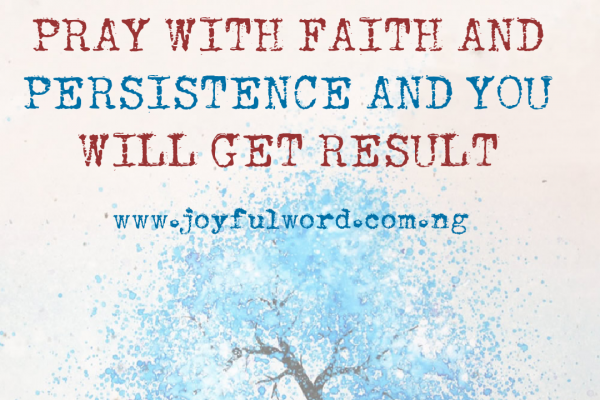 A WORD FOR TODAY
PRAY WITH FAITH AND PERSISTENCE AND YOU WILL GET RESULT
The parable that we have in the gospel reading of today teaches us to pray and not lose heart, this is what is expected from us when we pray. We must persevere and never give up and we must pray with faith. The widow persevered and she got what she wanted from the judge. We must do the same if we intend to receive our answers from the Lord.
It is our responsibility to pray, but it is God who answers our prayers. We may ask for a particular thing which we want, but the Lord may not give it to us, because He knows it will not bring us any good in the long run, therefore, He will give us that which will make us happy and guarantee our peace. When we pray, we must not insist on what we want, but we should always ask that God's will be done.
When you pray and what you asked for has not come, do not panic or lose heart, instead, remain steadfast and continue to call upon the Lord with faith, because He who gives up at the first attempt may never be a winner, but when you pray with perseverance you will succeed and you will be victorious.
We face challenges on a daily basis and the channel through which we can communicate to God and let Him know about our needs is through prayer. Therefore, do not joke with your prayer life, build yourself up spiritually and have a good disposition when you pray. God answers our prayers in His own way and at His own time. If you pray and pray well, you must be patient and have faith, because God will answer you and give you what will be the best for you.
God can never abandon us or refuse to hear our prayer when we cry to Him, but there are conditions we must meet for our prayers to be answered. First we must pray with faith, this means that we must believe that God can do all things and that He is able to provide what we desire. Secondly, we must at the end of our prayer say, Lord, let thy will be done. In this way, we will let everything be in His hands, who knows what is the best for us at every point in time. Thirdly, we must never give up even if what we seek delay in coming, we must hold unto God and continue to call upon His name. We must not leave Him to go after other gods. Perseverance is the key and he who perseveres will come out victorious.
Good morning dearest one. Smile😊as you begin your day and do have a splendid weekend. May God show His face to you when you call upon Him and may grant your good heart desire. Amen. And may the Almighty God bless you: the Father and the Son and the Holy Spirit. Amen.
Meditation: Wisdom 18:14-16;19:6-9/Psalm 105:2-3,36-37,42-43/Luke 18:1-8
Watch-Word: Pray Always and do not lose heart.
We pray, but God answers, therefore, pray with faith and persevere and you will receive blessings from the Lord.*_
(Saturday of the 32nd week in the Ordinary Time, Year 1)