A WORD FOR TODAY 16 SEPTEMBER 2019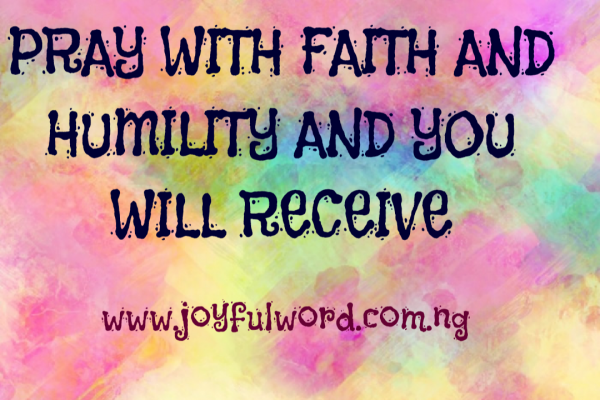 A WORD FOR TODAY

PRAY WITH FAITH AND HUMILITY AND YOU WILL RECEIVE

Prayer is the way through which we connect to God, telling Him our needs and also praising Him for what He has done for us. Anyone who can pray and pray well will be rest assured to get a response from the Lord who is ever ready to hear us when we call upon Him.
Saint Paul in the first reading of today urged that supplications, prayers, intercession and thanksgiving, be made for all men, kings and for those in high positions. This means that we must pray for everyone both the good and bad and through our prayers many will come to believe in Christ.
The power of Prayer can never be underestimated, because it will make things happen and can change situations. He who cannot pray will never be an overcomer, because the power of prayer brings victory to those who have faith.
The Centurion in the gospel reading of today is presented to us by Christ as an example to emulate. He was a man under authority with great influence, but He recognised in Christ the greatness he does not possess and He was humble and compassionate to seek His help for his slave who was sick.
We should never allow the position we occupy or the high status we have attained in life stop us from recognising the need in other people's life and do something to be of help to them even when they are below our class or status. Do not pray selfishly, but pray for everyone and through your prayers and intercession, many will come to the knowledge of the truth. Keep praying always because your prayers can do a lot of good to you and to others whom you lift up before the Lord.
The Centurion was a generous and humble man and he has faith in Jesus to the extent that he recognised his unworthiness to have Him come under his roof, therefore he requested that He only say a word and his servant shall be healed. This attitude moved Jesus and the miracle that the man sought for was granted. If we must pray and pray well, we must be humbly disposed to accept God's will when we pray, but we must pray with faith because only those who come to the Lord with faith will be able to receive from Him.
Today we celebrate the memorial of Saints Cornelius and Cyprain. They worked very hard to defend the Church during the time of persecution and they lived a holy and inspiring lives. Let us pray through their intercession that God will help us to remain faithful to our calling.
Good morning dearest one. Smile😊as you do your work and do have a blessed New Week. May Jesus give you the grace to pray well always with faith and humility and may you receive blessings for yourself and others when you call upon His name. Amen. And may the Almighty God bless you: the Father and the Son and the Holy Spirit. Amen.
Meditation: 1 Timothy 2:1-8/Psalm 28:2,7-9/Luke 7:1-10
Watch-Word: Lord, I am not worthy to have you come under my roof, but only say a word and my soul shall be healed.
Pray always, but with faith and humility and your supplication will find acceptance in the presence of the Lord.
(Monday of the 24th week in the Ordinary Time, Year 1. Memorial of Saints Cornelius and Cyprain)