A WORD FOR TODAY 17 APRIL 2020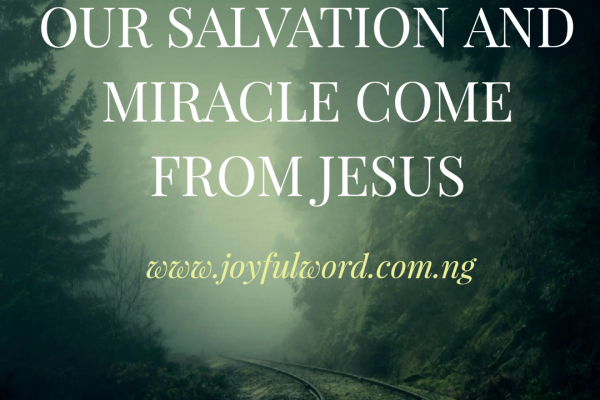 A WORD FOR TODAY
OUR SALVATION AND MIRACLE COME FROM JESUS
"This is the stone which was rejected by you builders, but which has become the head of the corner. And there is salvation in no one else, for there is no other name under heaven given among men by which we must be saved."(Acts 4:11-12)_
Peter and John in the first reading of today were brought before the council to explain why they had continued to proclaim the message of the resurrection after they have been warned not to do so. Peter was courageous and He spoke the truth that the miracle the people witnessed happened in the name of Christ and that people should believe in His name and be saved.*_
Jesus was rejected by many when He came to the world, but today His name has been lifted high in such a way that there is no other name given to men under heaven by which they must be saved. He is the stone which the builders rejected which has become the corner stone._
The miracle that happened in the gospel reading is a continuation of Jesus' revelation of Himself to His disciples. Simon Peter experienced once again the power of Jesus' resurrection. They laboured through the night in the sea and caught no fish, but when Jesus came, He commanded them to let down their net for a catch and when they did, they caught a large number of fish and they knew that it was the Lord who has come to visit them.
We can never achieve anything meaningful in life if we choose to labour without Christ or to take Him away from our lives. Indeed, there is no other name given to us in this life by which we shall be saved except in the name of Jesus. The best thing that can happen to us is to put our trust in Him because He will never abandon us.
Jesus is still healing people today, He is still working miracle. He is close to the broken hearted and He is still turning things around for good for those who believe in Him. We only need to come to Him and place ourselves in His hand and He will take care of us.
We fail, when we put God aside and choose to do things our own way without him. We fail, when we refuse to acknowledge that all we have is a gift from God. We fail when we try hard to promote everything material and then refuse to talk about the spiritual things. We fail, when we abandon the things of God in the quest to make more money and be counted as successful and great in the world. Infact, a life without Christ is a meaningless one. Therefore, we must draw close to Him and our success and fulfilment in life will come.
Good morning dearest one. Smile😊as you do your work and do have a joyful day. May God's miracle be made manifest in your life. Amen. And may the Almighty God bless you: the Father and the Son and the Holy Spirit. Amen.
Meditation: Acts 4:1-12/Psalm 118:1-2,4,22-27/John 21:1-14
Watch-Word: The atine which the builders rejected has become the corner stone.
Never abandon God for anything material, because your success in life can only happen if He sanctions it.
(FRIDAY IN THE OCTAVE IF EASTER, CYCLE A)