A WORD FOR TODAY 17 MARCH 2020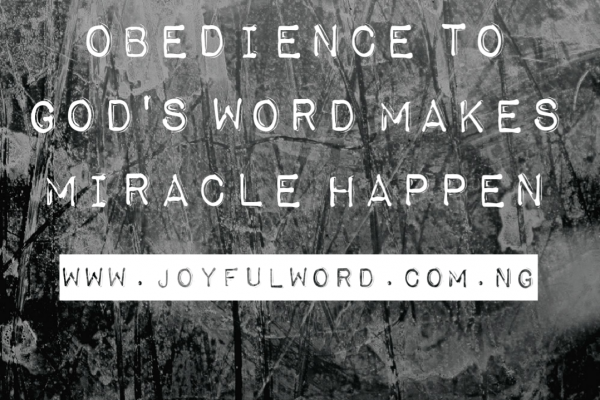 A WORD FOR TODAY
OBEDIENCE TO GOD'S WORD MAKES MIRACLE HAPPEN
Today we celebrate the feast of Saint Patrick, bishop. He is the second patron of Nigeria. He worked very hard in propagating the Good News and helped many to come to know about our Lord Jesus Jesus Christ. He also sent many missionaries from Ireland who came to evangelise our people in Nigeria.
He did not choose himself, but God chose Him, and in love he poured out his life for the good of the flock placed in his charge. He evangelized with a heart of love and in the end he won many souls to God. He let God's will be done in his life and in obedience accepted the pain that came with his office and persevered till the end.
Peter offered his boat to Jesus to minister to the people as we see in the gospel reading of today. He did it in obedience to His word and miracle happened for him. He laboured through the night and caught nothing, but Jesus reciprocated His generousity by telling him to let down the net into the deep for a catch. He obeyed and what he could not get in the night, he got in the morning, just by His word.
When we obey God's instruction, miracle happens, because God is ever faithful and does not go back on His word. He takes care of us and is always interested in our welfare. We must be ready like Peter to release ourselves and our gifts generously to Him so that He can use us and bless us.
We must release ourself to God so that He can use us to win souls for Him like saint Patrick did. We must be ready to let down our net into the deep for a catch. Winning souls should be our priority and we must not let anything stop us from propagating the gospel at all times.
Good morning dearest one. Smile😊as you do your work and do have a magnificent day. May Jesus give you grace to follow Him so as to win souls for Him. Amen. And may the Almighty God bless you: the Father and the Son and the Holy Spirit. Amen.
Meditation: 1 Peter 4:7-11/Psalm 96:1-3,7-8,10/Luke 5:1-11
Watch-Word: Follow me and I will make you fishers of men.
Never let anything stop you from proclaiming Jesus, because in Him is our salvation.
(Tuesday of the Third week of Lent, Day 18)