A WORD FOR TODAY 17 MAY 2020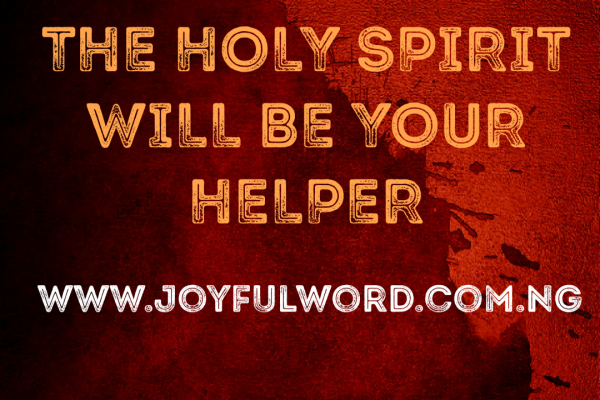 A WORD FOR TODAY
THE HOLY SPIRIT WILL BE YOUR HELPER
"If you love me, you will keep my commandments. And I will pray the Father, and he will give you another Counselor, to be with you for ever, even the Spirit of truth, whom the world cannot receive, because it neither sees him nor knows him; you know him, for he dwells with you, and will be in you."(John 14:15-17)
Last Sunday, we heard from Jesus in the gospel reading that He is going back to the Father to go and prepare a place for us. He told us not to worry, but to follow Him for He is the way to the Father. Today, He says to us, that He will ask the Father to give us the Holy Spirit (Paraklētos (Gk).who will be our Counsellor, Helper, Advocate and Comforter.
It was time for Jesus to return back to His Father in heaven and to resume His place at His right hand, but the love He has for us His children could not let Him leave us as orphans or allow the vissicitudes of live to destroy us. Therefore, He told His disciples and by extension He is telling us today that the Holy Spirit will come and be our guide and helper so that we will be able to overcome the difficult challenges we shall face in this life especially as we witness for Him.
To keep the Lord's commandment which will show him that we love Him and also to do other good things in His name and live well for both God and man, we need the grace and help of the Holy Spirit. We cannot achieve anything by our own power if the Lord does not help us. Infact the Scripture says in John 15:5 "Apart from me, you can do nothing"
The Holy Spirit helped Philip to proclaim and witness for Christ in the city of Samaria as we have recorded in the first reading of today and His message made a deep impact in the people. They witnessed a lot of miracles, not by his power, but by the grace and through the help of the Holy Spirit. The admonition of saint Peter in the second reading also, can only come through the grace and help of the holy Spirit. We must constantly be ready to defend our faith with reverence and gentleness. The Holy Spirit will give us what to say, when and how to say it whenever we encounter those who would try to cause us pain by persecuting us and rejecting the truth we profess.
The Holy Spirit will be your helper in this challenging time of Covid-19, such that you will be able to continue to praise and honour your God even when you cannot physically be in the Church. He is our help in times of sickness and pain, sadness and sorrow, confusion and bitterness, hunger, unemployment, aridity, disappointments, failure and so on. No matter the difficulty we experience or are passing through at the moment, the Holy Spirit is our sure help in these moments and He will always come at the right time.
Two weeks from today we shall celebrate the Solemnity of the Pentecost, we will commemorate the descent of the Holy Spirit on the Apostles. This should be a good time to prepare to receive and welcome Him into our heart so that He will dwell in us and from us will continue to manifest His name, glory and power everywhere. Talk to the Holy Spirit about that difficult task or assignment placed before you and be rest assured that He will help you and you will come out victorious. Make the Holy Spirit your best friend, listen to Him always and follow His guide and you will have the cause to rejoice in the father's glory.
Good morning dearest one. Smile as you begin your day and do have a miraculous Sunday. May the Holy Spirit our advocate speak for you where you cannot speak for yourself and may God's presence put a smile on your face. Amen. And may the Almighty God bless you: the Father and the Son and the Holy Spirit.
Meditation: Acts 8:5-8,14-17/Psalm 66:1-7,16,20/1 Peter 3:15-18/ John 14:15-21
Watch-word: If you love me, you will keep my commandment.
Never take the Holy Spirit for granted, make Him your best friend and He will take care of that difficult situation you are experiencing at the moment.
(Sixth Sunday of Easter, Cycle A.)