A WORD FOR TODAY 17 NOVEMBER 2019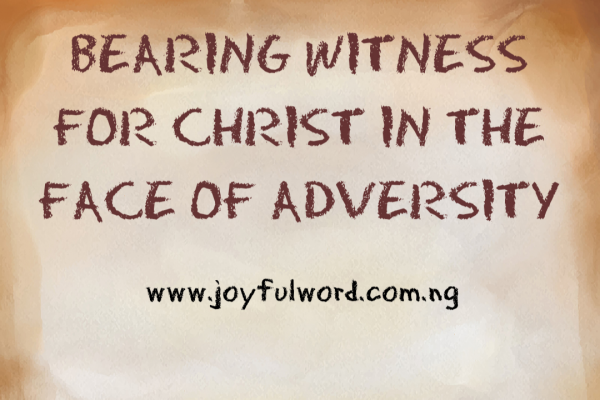 A WORD FOR TODAY
BEARING WITNESS FOR CHRIST IN THE FACE OF ADVERSITY
Life is never a bed of roses, we experience different forms of challenges and difficult situations from time to time. Some of the things we encounter tend to crush us and make us lose faith, however, the person who gives up in the face of adversity can never be a winner._
The prophet Malachi in the first reading of today gave to the people the encouraging word from the Lord. The people were distressed, because of their condition and they were almost losing hope, but the words of the prophet came to revive them. He told them that God's healing power will shine upon them because they fear His name.
Anyone who truly profess the name of Jesus in spirit and truth is bound to experience persecution and difficulties, however, God does not abandon the person in those trying moments, but He gives him the strength to overcome and conquer.
The troubles and challenges of this life should not make us to be depressed, but should be an opportunity for us to stand our ground to witness for Christ with our life. If we believe in Christ, we must hearken to His voice and do what He has asked us to do and in that way we shall be saved on the last. Obeying Jesus' instruction is the best way to have life and anyone who follows that way will have eternal life.
Jesus understood the signs of the time and He warned His disciples ahead of the time not to panic when they begin to experience these dark moments so that they will not be led astray by false prophets. We must stay at alert and use every opportunity we have to witness for Christ with our life and we will be rest assured to gain back our soul on the last day.
Anyone who believes Christ should be disposed to suffer persecutions for His sake. People will hate us simply because we bear the name of Christ, however, such moments should be a good time to put our faith into action. Proclaim Christ in words and deeds and even if it will cost you your life, let it be, but be rest assured that Jesus will give you back your life in heaven and speak for you before His Father. Our redemption is near and we must not become idle, but use every moment at our disposal now to do good and to please the Lord.
The way that Jesus is offering us may be painful and rough, but that is the way that leads to life. If we walk with Him, we may be killed, but He will give us back what we have lost in this life. He will be with us through our moments of pain and suffering and His grace will be sufficient for us. Therefore, we need to keep working for God and doing good things. There is no time to waste, because idleness will lead to disaster. Everytime we make sacrifices to let go of our comfort and pleasure in order to help our brothers and sisters in need, we gain our soul.
Good morning dearest one. Smile as you begin your day and do have a blessed Sunday. May God's grace be enough for you to overcome the challenges that come your way. Amen. And may the Almighty God bless you: the Father and the Son and the Holy Spirit. Amen.
Meditation: Malachi 4:1-2/Psalm 98:5-6,7-9/2 Thessalonians 3:7-12/Luke 21:5-19
Watch-Word: Look up and raise your heads, because your redemption is drawing near.
It is better to die serving God in the people, than to live comfortably well in affluence without making any meaningful impact in the lives of the poor and needy.
(33rd Sunday of the Ordinary Time, Year C)