A WORD FOR TODAY 17 SEPTEMBER 2019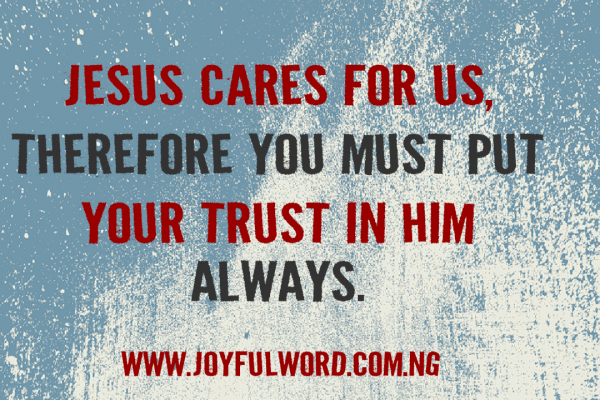 A WORD FOR TODAY
JESUS CARES FOR US
The story in the gospel reading of today is one that shows how compassionate our Lord Jesus is to the poor and the needy. He saw the pain in the heart of the widow who was going to bury her only Son and He was moved to do something to soothe and ease her pain._
He touched the bier and commanded the dead man to rise up and immediately he stood up and began to speak. I could imagine what will be going on in the heart of the widow who felt before that moment that everything is lost and there is no hope for her anymore, but when Jesus came, the story of sadness and sorrow now changed to Joy and praise for God who has done great things for her.
We have a God in Jesus who feel our pain and journeys with us in our times of suffering. He does not abandon us to be destroyed by the vicissitudes of life, but He shows us care and love and comes to deliver us from the destructive forces of evil that sometimes seeks to take away our joy.
The miracle of today shows that the power of life and death belongs to God, and that should move us to trust and depend on Him totally, because He can never fail and will always be available to help us in our times of need.
What you may be passing through at this moment in life may be different from what this widow passed through, but the same Jesus that helped her is still available and ready to help you. Just draw close to Him, tell Him of your need and be still before Him for He will never fail, because He cares for you and will turn things around for you.
When we experience the compassion and care of our Lord Jesus, we are bound to show the same to others. We must be like Jesus to all men and women in our world. We must take the exhortation of saint Paul in the first reading to heart. We must live a life that will inspire those who come around us to love the Lord and be willing and ready to follow Him and serve Him with their heart.
We must be virtuous in all aspect and be above reproach, we must be gentle and avoid quarrel, not greedy and lover of money, we must be hospitable, sensible, an apt teacher and one who does not drink and forget himself. This advise is for both those who aspire to be ministers in the house of God and those who will be parents. We must strive to be like Jesus at all times and in that way we can win more souls for Him.
Good morning dearest one. Smile😊as you do your work and do have a wonderful day. May Jesus come to your aid and may His care and love turn things around for you. Amen. And may the Almighty God bless you: the Father and the Son and the Holy Spirit. Amen.
Meditation: 1 Timothy 3:1-13/Psalm 101:1-3,5-6/Luke 7:11-17
Watch-Word: And when the Lord saw her, He had compassion on her.
In our moment of pain and sadness we must constantly turn to Jesus who alone has the key to restore our joy and give us peace.
(Tuesday of the 24th week in the Ordinary Time, Year 1)