A WORD FOR TODAY 18 DECEMBER 2019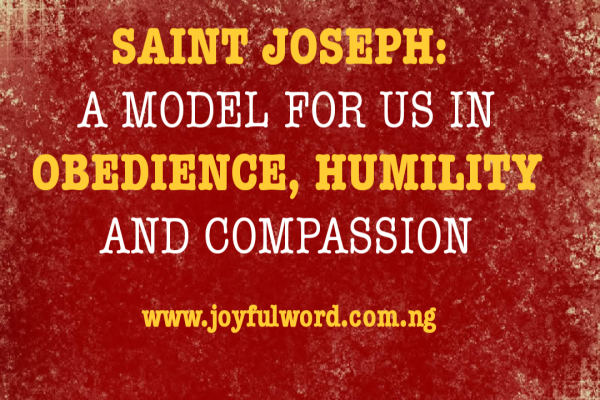 A WORD FOR TODAY
SAINT JOSEPH: A MODEL FOR US IN OBEDIENCE, HUMILITY AND COMPASSION
The prophecy that was given in the old testament as we have recorded in the book of Jeremiah which we see in the first reading of today came to be fulfilled in the new dispensation as we have recorded in the gospel reading also._
Jesus is the righteous branch that was raised from the root of David. His mission was to save His people from sin and eternal damnation. He was given the name 'Emmanuel' which means God is with us. God came to save us through His Son our Lord Jesus Christ and this is the reason we are rejoicing, because of the love He has shown to us.
The gospel reading of today presents to us the person of Joseph and the wonderful role he played in our salvation history. Saint Joseph was the foster father of our Lord Jesus Christ and He accepted to play that role after the encounter He had with the angel in the dream. Just as our Mother Mary gave her 'fiat' and said yes to God, so also saint Joseph said yes to God and played the part that He set out for him to fulfil in the course of the redemption of man.
Saint Joseph was a good man and this is shown in the manner he treated our Blessed Mother when he found out that she was with a child. He has every right to embarrass her in public but he chose to send her away quietly, leaving judgement for God. He loved our Mother Mary and that love moved him to be kind and merciful to her even when he felt she has committed a sin.
We can be like saint Josrph in our encounter with people on a daily basis. We must learn to treat people with dignity and respect even when they seem to have done what is evil. We can change them through our love and help them to find salvation. Saint Joseph acted maturely and when he was told what was going on in Mary, he quickly allowed God's will to be done and he played his role well in the life of Mary and that of our Lord Jesus Christ.
We must learn to treat others as we would like to be treated by them. We must let God be the final judge at all times, because we may be wrong in the judgement we pass on others. We must submit to God and let His will be done in our life always. God's will is the best and He has a role for us to play in this life if we let Him make use of us.
Saint Joseph is a good model for us in humility, kindness, sincerity, mercy, silent listener, obedience and total submission to God's will. He was very considerate in his dealing with Mary and he played a significant, but most times, silent role in taking care of Jesus and Mary as the Lord commanded and if we learn to be like him we can also help the weak to become strong._
Good morning dearest one. Smile😊as you do your work and do have a wonderful day. May Jesus give you the grace to be considerate and merciful in dealing with others who may have done you wrong. Amen. And may the Almighty God bless you: the Father and the Son and the Holy Spirit. Amen.
Meditation: Jeremiah 23:5-8/Psalm 72:1-2,12-13,18-19/Matthew 1:18-24
Watch-Word: When Joseph woke from sleep, he did as the Lord commanded Him.
Any kindness shown to people will definitely come back to you. Therefore, keep doing good for your reward will come some day.
(Wednesday of the Third week of Advent, Year A)