A WORD FOR TODAY 18 FEBRUARY 2020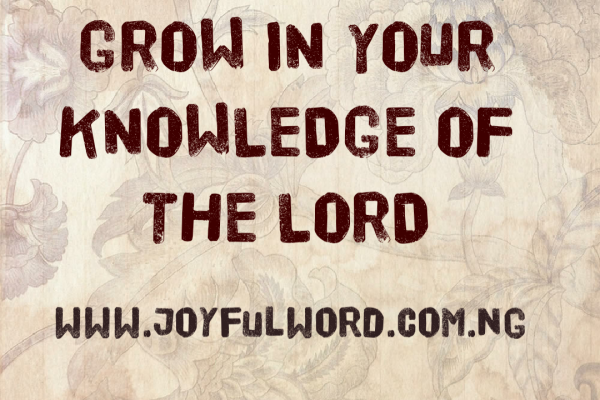 A WORD FOR TODAY
GROW IN YOUR KNOWLEDGE OF THE LORD
The Scripture says, my people perish for lack of knowledge (Hosea 4:1). And ignorant of the Scriptures, is ignorant of God.(Saint Jerome). This is the reason we act ignorantly sometimes, because what is in our mind which we consider and desire to carry out is always different from what the lord desires and which will always be the best for us.
In the gospel reading of today, Jesus warns His disciples to beware of the leaven of the pharisees and the leaven of Herod. The statement is for them not to focus their mind only on the material. Both the Pharisees and Herod had something in common. The former thought about the Messiah only in terms of a mighty king who will rule with an earthly power and glory and Herod also only thinks of God's kingdom in that light. He tried to gain prestige by conquests and subjugation.
Jesus is telling His disciples to grow in the knowledge of the things of God and in that way they will know what God reveals at any point in time. They were thinking about bread when the Lord made that statement, forgetting all that He had done in the past to make provisions for them and others when they had nothing to provide to take care of the crowd.
There is need for us to fill our mind with positive things that will help us to know God and what He wills for us. The disciples were distracted and they let their mind only concentrate on the material and they were not disposed to see what the lord wants them to see. We can be like them when we close our minds on the things that will help us to be good people and spiritually enriched and then open our hearts to things that will only benefit us materially.
Our mind is powerful when we feed it with the right information. We must grow in knowledge, but we must be ready to apply it, because it does not make any sense to possess a knowledge which you cannot apply to help you conquer challenges. Therefore, be careful what you feed your mind with, because it could either help you to achieve your goal or to miss it entirely.
We can grow in our knowledge of God if we spend quality time with Him. It can also happen when we devote time to study and meditate on the Scriptures. To grow in the knowledge of God and to have faith in Him is something we cannot trade for any other thing in life.
Good morning dearest one. Smile😊as you do your work and do have a splendid day. May God help you to grow in the knowledge of Him so that you will always represent Him well here on earth. Amen. And may the Almighty God bless you: the Father and the Son and the Holy Spirit. Amen.
Meditation: James 1:12-18/Psalm 94:12-15,18-19/Mark 18:14-21
Watch-Word: Blessed the man, whom you discipline, O Lord.
Always choose God above material things, because materials things don't make God, instead, God creates them.
(Tuesday of the sixth week in the Ordinary Time, Year II)