A WORD FOR TODAY 18 JUNE 2019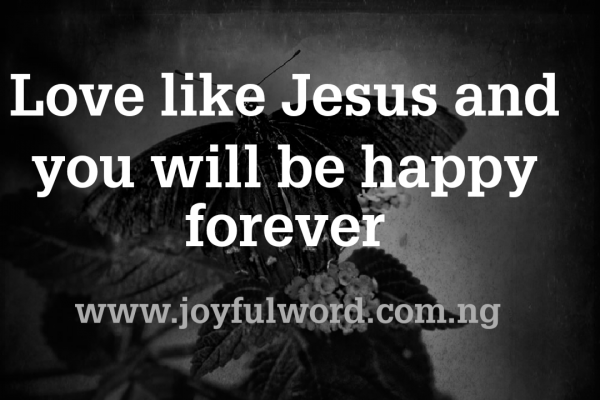 A WORD FOR TODAY
To aim for perfection is to work hard to live a life that will be pleasing to the Lord and this is what the Lord Jesus is commanding us to do in the gospel reading of today. We must love others and not just those who love us, but even those who do not love us. We must love them and pray for them and by so doing we will be like our heavenly Father who lets His blessings fall upon the good and evil people.
We must strive after perfection as Jesus has instructed, because our heavenly Father is perfect. It will not be an easy task, because we will experience a lot of challenges, but if we remain steadfast and follow in the path of Christ, we will overcome.
To love someone who has hurt you is not something that is very easy to do, but that is the way of Christ and that is what Jesus expects us to do on a daily basis as we follow His example. He forgave those who persecuted and killed Him on the cross and that is what He expects us to do at all times.
Our effort to follow this instruction of Christ always is what counts in helping us to become perfect. We must grow in unconditional love. This is a love that will be given inspite of what the other person does to us. This should be our aim in serving God and when His love has possessed our heart we will be ready to lay down our lives for others.
We meet people everyday and sometimes they treat us badly and wound us, we must try to be like Jesus. We must let His Spirit and his grace possess our soul, because it is only by His help that our heart will not be bitter and seek for revenge, but will be able to love those who offend us and do good to them.
Genuine love must be sacrificial and unconditional. Anyone who intends to follow Christ must be ready and willing to love in this way and our world will be better. To take our 'enemies', those who have hurt us to God in prayer is the surest way to kill bitterness in our heart and this we must do always if we intend to be true sons and daughters of our Father who is in heaven.
Good morning dearest one. Smile😊as you do your work and do have a splendid day. May the grace of God be sufficient for you so that you will love others as Christ has loved you. Amen. And may the Almighty God bless you: the Father and the Son and the Holy Spirit. Amen.
Meditation: 2 Corinthians 8:1-9/Psalm 146:1-2,5-9/Matthew 5:43-48
Watch-Word: You, therefore must be perfect as your heavenly Father is perfect!
Loving like Jesus entails making sacrifices and if we do, we must love, even those who have offended and hurt us. Love and do not hate!