A WORD FOR TODAY 18 MARCH 2020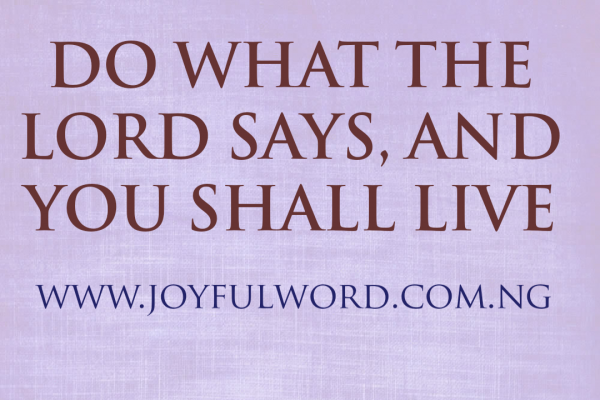 A WORD FOR TODAY
DO WHAT THE LORD SAYS AND YOU SHALL LIVE
When you know the law and do what it says, you will never be found wanting in breaking it. However, if you know the law and choose not to do what it says, you will break it and that will make you not to be a friend with God._
Moses in the first reading of today reminded the people of the responsibility they have from the Lord to keep His commandment. The whole essence of keeping God's ordinances is for them to live and to be happy. They were instructed not to deviate from it, but to always do what the law of the Lord commands.
God knows us and He knows what will be good to us. If we hearken to His voice and keep His commandments, we shall be happy and we will be blessed. His commandments are not burdensome, but what will guide us to live well so as to possess eternal life._
We must strive not to take God's law for granted or compromise when it comes to living our life as children of God. It will be our duty to grow deeper in our faith and love for God and we will teach others who look up to us to do the same.
In the gospel reading of today, Jesus tells us that He has not come to abolish the law, but to fulfil it. This means that the whole law of the Lord finds fulfilment in Christ and this is something we must take to the heart. If Jesus could be obedient to the will of the Father, then who are we not to obey God's word and let it be our guide in all that we do. Obedience to God's word is the surest way to be happy in this life and if we keep God's commandment without compromise, we must surely live, be called great and posses eternal life in heaven.
Good morning dearest one. Smile😊as you do your work and do have a fruitful day. May God's grace help you to keep His law always and to teach others to do the same. Amen. And may the Almighty God bless you: the Father and the Son and the Holy Spirit. Amen.
Meditation: Deuteronomy 4:1,5-9/Psalm 147:12-13,15-16,19-20/Matthew 5:17-19
Watch-Word: till heaven and earth pass away, not an iota, not a dot, will pass from the law until all is accomplished.
Do what the law of the Lord says and you will live happily in this life and in the world to come.
(Wednesday of the Third week of lent, Day 19)