A WORD FOR TODAY 18 MAY 2020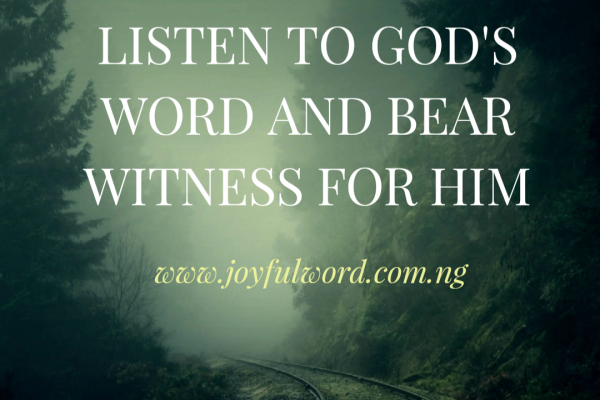 A WORD FOR TODAY
LISTEN TO GOD'S WORD AND BEAR WITNESS FOR HIM
"But when the Counselor comes, whom I shall send to you from the Father, even the Spirit of truth, who proceeds from the Father, he will bear witness to me; and you also are witnesses, because you have been with me from the beginning." (John 15:26-27)_
The principal task of the disciples of Jesus is to go out and proclaim the Good News which is the word of God. However, you cannot proclaim what you do not know and understand. Therefore, the best way to go, is to first listen to God's word and let it permeate into your heart and then you will be able to go out and through the help of the Holy Spirit, boldly witness for Jesus.
_In the first reading of today we see how Lydia and some other women gathered together to listen to Paul and his companions who were going around the various cities proclaiming the word of God. Lydia was moved by what she heard and after she and her household were baptised, they were blessed richly and their hearts were filled with Joy.
Jesus in the gospel reading tells us that when the Holy Spirit comes He will bear witness to Him and He will help us to stand on the side of the truth, because He is the Spirit of truth. If we listen to the Holy Spirit, He will teach us the truth and He will be with us at all times to strengthen us in our times of persecution.
To listen when someone speaks is something nice, however, it must depend on what you are listening to. If what you are listening to will not add any positive value to your life you must desist from creating time to hear such, because it will become a poison to your soul rather than being a word that brings life. Some messages can give life, while some can kill, therefore be careful what you listen to so as not to be led astray by false and erroneous teachings from fake prophets and pastors whose primary mission is to lead people astray.
We must create time from our daily schedule to read, study and meditate on the word of God so as to nourish our soul. We must feed our soul daily with God's word and We must welcome the Holy Spirit into our heart so that He will help us understand the things that are not clear to us. When we have been fed by God's word, we will courageously go out to witness for Christ.
The Holy Spirit will help us in times of persecution so that we may not fall away or be conquered by those who will plan to destroy us. We must listen to the Holy Spirit and follow His guide in all that we do and this will help us to remain steadfast and to to courageously witness for Jesus in words and deeds.
Good morning dearest one. Smile😊as you do your work and do have blessed new week. May the Holy Spirit help you to listen to God's voice and may you do what the word of God says. Amen. And may the Almighty God bless you: the Father and the Son and the Holy Spirit. Amen.
Meditation:* Acts 16:11-15/Psalm 149:1-6,9/John 15:26-16:4
Watch-Word:* The Spirit of truth will bear witness to me, says the Lord.
When you listen to God, He will teach you the things that will help you live well and you will have the courage to tell people about Him.*_
(Monday of the 6th Week of Easter. Cycle A)