A WORD FOR TODAY 18 SEPTEMBER 2019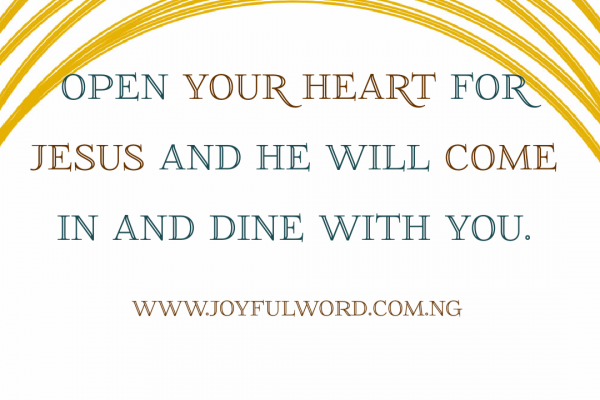 A WORD FOR TODAY
OPEN YOUR HEART FOR JESUS
Saint Paul as an apostle through the letter he wrote to Timothy and other Churches instructed them on how to behave in the Church and live for God. This is a very good example, because he does not want them to go astray. When we are in Christ, the things we do should always reflect the image of the one we are following, Christ Jesus, the king of glory.
We should be ready always to lead by example and teach those who look up to us the right way to follow. We must guide them in the truth and be a shining example they could look up to in their journey of faith. In this way they will remain in Christ and proclaim Him in words and deeds till the end of time.
Jesus in the gospel reading was not happy with the people of this generation, because of their not being disposed and open to receive the message of salvation. They are always complaining and do not allow the Word of God to take root in them.
We have the free will in life to make the choice we want, and most times we tend to make the choice that shows rejection of God and the things He has come to give to us through His Son. However, you will still find those who will be wise to accept Him for who He is and live their lives in accordance to His commands without compromise.
Our attitude to the things of God is a necessary condition to whether it will bear fruit in us or not. if we intend to follow Jesus, we must let His word take root in us and we must listen to Him always and walk in His ways. This is the only way His word will make an impact in us, but if we reject Him and fail to let Him come into our heart, we will never gain from Him and we are going to be the one to lose in the long run.
We should not let pride, excuses, stubbornness, unseriousness and our inability to listen to God through His messengers stop us from receiving the Good News of salvation that will transform us and make us better Christians. Instead, we should always let God lead us and direct our path so that we will live for Him and through us many will come to follow Him.
God gives us opportunity to learn from Him and grow in grace, but if we fail to cease it when it comes because of our selfish attitude and in disposition to His word, we may end up losing the good that He has brought to us through His word. Be open to God, let Him work in you and His love will always transform you to become the best you can be.
Good morning dearest one. Smile😊as you do your work and do have a joyful day. May God's grace help you to be disposed always to let God's word take root in you. Amen. And may the Almighty God bless you: the Father and the Son and the Holy Spirit. Amen.
Meditation: 1 Timothy 3:14-16/Psalm 111:1-6/Luke 7:31-35
Watch-Word: Great are the works of the Lord.
Give God a listening ear, be humble and always disposed for His word to take root in you.
(Wednesday of the 24th week in the Ordinary Time, Year 1)