A WORD FOR TODAY 18 SEPTEMBER 2021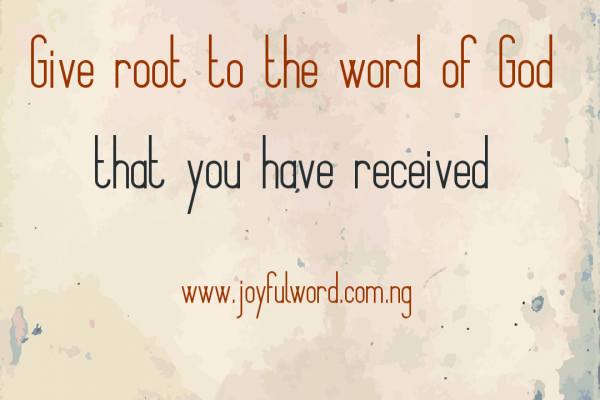 https://youtu.be/FVdFLIpXaAo

*A WORD FOR TODAY*
*GIVE ROOT TO THE WORD OF GOD THAT YOU HAVE RECEIVED
_The ones on the rock are those who, when they hear the word, receive it with joy. But these have no root; they believe only for a while and in a time of testing fall away.(Luke 8:13)_
_*Every now and again we have the opportunity to listen to the word of God. Often times when it comes to us we immediately sense a great joy because we percieve that the word we have received will solve our problems or help us live exemplary Christian lives.*_
_However, after some time have passed, we may experience emptiness and unfulfilment because nothing changed in our life after receiving God's word. Some of us experience a fall back to sin and habits we previously hoped to overcome._
_*Today in the Gospel, Jesus speaks to us about different kinds of heart that receive the word of God. My interest is on the heart that received the word with joy but does not produce fruit because such people received the word with joy but it never took root in them hence they give up in the times of trial.*_
_Oh dear one, let us not lose hope. Rather, we pick the challenge to try to give root to the word of God we receive. I suggest that we:_
*1. Take the word of God to prayer and meditation after we have received it and ensure that we accept every bit of it into our spirit.*
2. Let us make attempt to remember that particular word of counsel we received when the need for it arises. Let us discipline ourselves to do what it says.
*3. Let us also keep a personal study time. Let it not be that we look into our Bibles only when we go to church or when we have problems.*
_The word of God that comes into your heart can do a lot of good to you if you receive it well. Keep working on your heart so that it will become fertile to receive God's word that will make you fruitful._
_Good morning dearest one. Smile😊 as you do your work and do have a wonderful weekend. May the Word of God you receive bear fruits in you in abundance. Amen. *And may the Almighty God bless you: the Father and the Son and the Holy Spirit. Amen.*_

*Meditation:* 1 Tm 6:13-16/Ps 100:1b-2, 3, 4, 5/Lk 8:4-15
*Watch-Word:* Blessed are they who have kept the word with a generous heart
and yield a harvest through perseverance.
*Whenever the word of God takes root in our hearts, it will produce a rich harvest of good things. So let us work hard to make it take root in us*

(Saturday of the twenty third week in the ordinary time, year 1)